DW: You are the ambassador for Germany's bid to host the 2024 European Championship. What makes this job so special?
Philipp Lahm: I find it great to be the European Championship ambassador. It would be fantastic to be able to host this tournament in our own country. It brings people together – in Europe but particularly in Germany. I experienced how it was during the 2006 World Cup, so I was only to happy to do this.
What's so special about Germany's bid?
We have already proven that we are capable of organizing major football tournaments. We have the infrastructure, we have the stadiums. Everything is ready to go. And we are hospitable, which we proved in 2006 too. We were able to celebrate a big party with all of our guests. We want to demonstrate this again in 2024.
Would hosting the tournament give the German national team any sort of home advantage?
The past has shown that the home team does have a certain advantage. We saw this most recently at the 2018 World Cup in Russia. However, I believe another point is more important: This would give us the opportunity to come together again as a national team, but even more importantly as a society. This tournament would give us that opportunity.
If Germany were to win, this would be the fourth major tournament that this country has hosted after the 1988 European Championship and the 1974 and 2006 World Cups. Turkey has never had the opportunity to host a major tournament. So wouldn't it be fair to step aside and let Turkey have it?
The last time we hosted the European championship was in 1988, which is quite a while ago. I think that these days, it is important to have a stable economy and political situation. We offer both of these things. The decision lies with the [UEFA] Executive Committee. We believe that what we have to offer is good, but you can never be sure.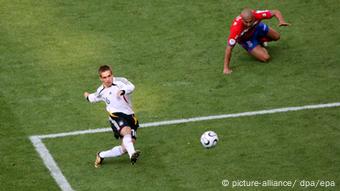 Philipp Lahm scored the opening goal of the 2006 World Cup for Germany against Costa Rica in Munich
Last year you turned down the job of sporting director at Bayern Munich. Could you imagine a future for yourself at Bayern, once your have finished your job as ambassador for the German bid?
My attention is focused on the 27th of September, the day on which it is to be decided who will host Euro 2024. That's critical. We'll just have to wait and see what happens after that. If we win, I will become head of the organizing committee. That would certainly be a great job as well. What happens beyond that, we'll just have to wait and see.
In the past you have said that you don't want to get into coaching. Is this still true?
At the moment I couldn't imagine being on the pitch day in and day out. I experienced how Pep Guardiola worked every day. He had football on his mind round the clock: "What system does the opponent like to play? How do I want to set up my team, who do I want in which position?" I can't imagine doing that at the moment. I am 34 years old. I don't know what the future will bring.
What keeps you busy when you are not on the road as the ambassador for Germany's Euro 2024 bid?
I've had my own foundation for more than a decade. I'm a businessman, I have two companies, plus, I have a family with two children at home. That's the most important thing. And of course, staying active is important to me. I spend too much time sitting in an office. So I need to play sports on a regular basis, that's why I play golf and tennis.
Philipp Lahm, 34, captained Germany to the 2014 World Cup title in Brazil. He also won numerous titles as captain of Germany's most successful club, Bayern Munich: Eight Bundsliga titles, six German Cups, the Champions League in 2013, as well as the 2014 FIFA Cup World Cup. Late last year, Lahm was named the DFB's ambassador for its bid to win the right to host Euro 2024. Should Germany's bid win, Lahm is to then become the head of the Euro 2024 organizing committee.
The interview was conducted by Mark Lovell