Two top US officials have addressed ongoing concerns with North Korea's nuclear weapons program, as tensions in East Asia ratchet up following the tough line President Donald Trump has taken toward Pyongyang in recent weeks.
Speaking to troops on board the USS Ronald Reagan aircraft carrier on Wednesday, US Vice President Mike Pence called North Korea the most urgent and dangerous threat to the peace and security of the Asia-Pacific region.
Earlier in Tokyo, where he was meeting with Japanese Prime Minister Shinzo Abe, Pence emphasized US solidarity with its regional allies. "We appreciate the challenging times in which the people of Japan live with increasing provocations from across the Sea of Japan," Pence said after arriving there from Seoul. "We are with you 100 percent."
Pence also reassured leaders that Washington remained committed to holding North Korea accountable for its actions. "While all options are on the table," he said, "President Trump is determined to work closely with Japan, with South Korea, with all our allies in the region, and with China" to deal with the problem.
Abe also emphasized the need for world leaders to force Pyongyang to the negotiating table saying, "dialogue for the sake of dialogue is valueless and it is necessary for us to exercise pressure on North Korea so that it comes forward and engages in this serious dialogue."
Pence's comments came as the White House struggled to explain why an aircraft carrier group Trump last week said was sailing off the waters of North Korea as a deterrent was, in fact, near Australia, more than 5,000 kilometers (3,000 miles) away. US Pacific Command admitted Tuesday the USS Carl Vinson carrier group had headed to northwest Australia for planned exercises. Trump had told Fox Business Network that the US was "sending an armada, very powerful" off the shores of North Korea, prompting a media frenzy and speculation of a pre-emptive strike on North Korea.
Pacific Command said Tuesday the strike group was now "proceeding to the Western Pacific as ordered."
Spotlight on China's role
Pence on Monday had made an unannounced visit to the demilitarized zone separating North and South Korea, where he warned that "the era of strategic patience is over."
While Pence was in East Asia, US Defense Secretary Jim Mattis was touring the Middle East, where he also touched upon the North Korea issue.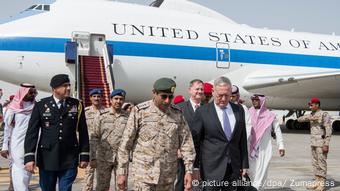 Mattis (right) is touring the Middle East, another region critical to US foreign policy
"The leader of North Korea again recklessly tried to provoke something by launching a missile," Mattis said, referring to Pyongyang's recent ballistic missile launch.
The defense secretary also credited Beijing with trying to reign in Pyongyang's nuclear ambitions.
The rhetoric between North Korea and the US began heating up noticeably in early April after Trump, in an interview with the "Financial Times" newspaper, said the US was willing to act unilaterally if necessary to counter Pyongyang's nuclear program.
Following those comments, Trump met with Chinese President Xi Jinping, after which he said Beijing was working closely with Washington on the issue.
blc/sms (AP, Reuters)