US Vice President Mike Pence landed in Tokyo on Tuesday and first item on his schedule was a working lunch with Prime Minister Shinzo Abe for talks expected to focus on security issues before
meeting Deputy Prime Minister Taro Aso for economic discussions.
Pence's trip is part of an effort by the Trump administration to boost trade with east Asian nations other than China. Pence was also expected to explain to Japanese leaders why the US withdrew from the Trans-Pacific Partnership (TTP) free trade deal, according to insiders.
Japan had a $69 billion (64.8 billion-euro) trade surplus with the United States last year according to Treasury Department figures.
"We thought it was important, particularly post-withdrawal (from) TPP, to let the region know that we haven't forgotten about them," one White House economic adviser told reporters.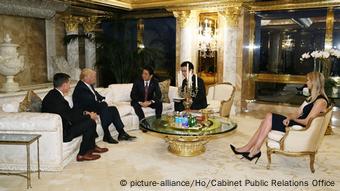 Trump and Abe met in New York last November
With their meeting, Pence and Aso are to start a series of US-Japan trade talks announced by President Donald Trump and Prime Minister Shinzo Abe in February.
While wrapping up the first leg of his tour in South Korea, Pence said that the US was rethinking most of its trade deals in order to fall more in line with Trump's "America First" campaign promises.
"We're reviewing all of our trade agreements across the world to ensure that they benefit our economy as much as they benefit our trading partners," the vice president said at a meeting with the America Chamber of Commerce in Korea.
Pence has firsthand knowledge of how beneficial Japanese investment can be. Indiana, where he was governor from 2013-2017, is home to manufacturing plants for automakers Toyota, Honda and Subaru. The vice president's team has said that the main purpose of his visit is to increase US access to Japanese markets, as well as to push for more investment in the US.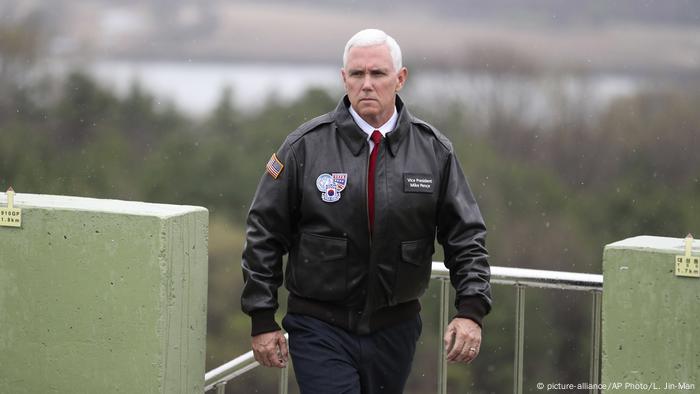 US Vice President Mike Pence in South Korea at the Demilitarized Zone (DMZ)
North Korea promises 'merciless military strikes'
In the background of Pence's Asia trip was increasingly volatile rhetoric between the US and North Korea over Pyongyang's missile tests. While visiting the demilitarized zone on the border between North and South Korea, Pence warned that the "era of strategic patience" was over, and that Washington would respond to acts of aggression.
North Korea's Deputy Foreign Minister Sin Hong-chol responded in kind, saying "if we notice any sign of assault on our sovereignty, our army will launch merciless military strikes against the US aggressors, wherever they may exist."
Japanese Chief Cabinet Secretary Yoshihide Suga told the press that Tokyo would also seek some reassurance about security with regards to North Korea during Pence's visit.
es/jm (AP, Reuters)