Fresh protests organized by the far-right populist group PEGIDA were held in the eastern German city of Dresden on Monday evening.
PEGIDA, which loosely translates to "Patriotic Europeans Against the Islamization of the West," initiated protests in October, in response to clashes between Kurds and Sunni Muslims over the West's intervention in Syria, but the organization's name suggests broader aims.
On Friday, Ralf Jäger, the Social Democratic (SPD) interior minister for North Rhein-Westphalia, described the movement's members as "neo-Nazis in pinstripes."
Counter-movement
Over the past nine weeks, the "Monday demos" have grown from a few hundred protesters to several thousand. Monday evening's demonstration was their biggest to date, pulling in more than 10,000 people.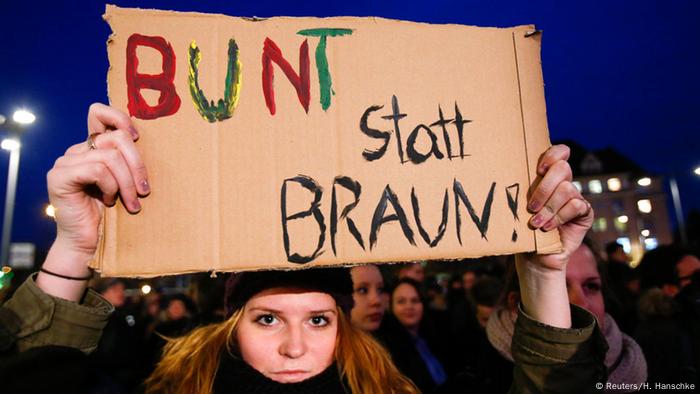 "Colorful instead of brown" this protester in Dresden demands, referring to the color associated with Nazis
However, on Monday, the group was met by counter-demonstrators from the group "Dresden for all," who brought 9,000 people to the streets calling for more tolerance last week.
In a similar counter-protest on Sunday, around 15,000 people marched in a peaceful demonstration against xenophobia and right-wing extremism in the western German city of Cologne.
PEGIDA's allies
A different group taking cues from PEGIDA under the modified name "BOGIDA" also took place in the western German city of Bonn on Monday evening. On their Facebook page, the group described the event a "peaceful evening stroll against Salafists in Bonn, the Islamization of the occident and misled refugee and immigrant policy in Germany."
In Bonn, BOGIDA protesters were met with chants of "Nazis out!" from a counter movement which outnumbered them at least four to one. BOGIDA demonstrators were unable to start their march after anti-xenophobia supporters blocked their planned route.
Merkel condemns PEGIDA
Hours before Monday's PEGIDA protests, German Chancellor Angela Merkel condemned the wave of PEGIDA marches, warning Germans not to be "exploited" by the extremists.
"Of course there's freedom to demonstrate in Germany," Merkel said in Berlin on Monday, but added that this did not extend to "rabble-rousing and defamation."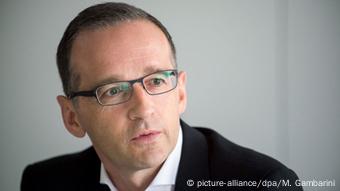 Maas took a clear stand against the PEGIDA movement
Following previous demonstrations in Dresden and Düsseldorf, Germany's Justice Minister Heiko Maas also condemned the growing movement. In an interview with the Süddeutsche Zeitung, Maas said that the PEGIDA protest rallies were "an embarrassment for Germany" and that the country was experiencing a new "level of escalation of agitation against immigrants and refugees."
On social media on Monday, the hashtag #illridewithyou was also adopted in Germany ahead of the right-wing protests. The hashtag began to trend on Twitter in Australia after several people were taken hostage for more than 16 hours by an alleged Islamist. Many feared a public backlash against people dressed in Muslim attire and used the hashtag as a way of offering to travel with them in solidarity.
ksb/lvw (AFP, dpa, epd)