In an interview with the Süddeutsche Zeitung, Germany's justice minister Heiko Maas said that the protest rallies of the anti-Islamization movement, PEGIDA, were "a shame for Germany" and that Germany was experiencing a new "level of escalation of agitation against immigrants and refugees."
Maas pointed out that several people participating in the movement had likely been misled by its leaders and would probably be ready for a rational discussion on the issue. The movement, according to Maas, did have people who "had a clear affinity towards hatred of foreigners."
Maas asked for a civil society and political parties to come together against the anti-Islamization movement, in order that PEGIDA be "exposed" for its "outrageous arguments," especially since those expressing their hatred were doing so "behind the backs of refugees who had lost everything and were asking for help."
10,000 expected in anti-refugee rally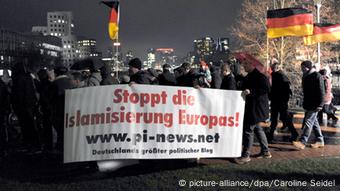 A Pegida demonstration in Düsseldorf on December 8 this year
PEGIDA stands for "Patriotic Europeans against the Islamization of the occident." Members of the movement protest against a perceived Islamization of western countries and demand stronger laws for those seeking asylum.
The movement has generated extensive debate in Germany, especially in connection with the HoGeSa or Hooligans against Salafists, also an anti-Islamic group with about 40,000 members on Facebook.
Several counter movements have also sprung up in German cities, like the one called "Dresden for all, all for Dresden," which plans to demonstrate against the Pegida rally in Dresden on Monday, expected to be attended by around 10,000 people.
mg/es (AFP, dpa)