Raza Khan went "missing" from the eastern city of Lahore on December 2. His whereabouts are still unknown, but some civil society activists have alleged the military's intelligence agencies have picked him up. Security agencies regularly deny any involvement in such actions.
Khan is a peace activist, who campaigns for better ties between India and Pakistan. He is also very critical of the rising extremism in Pakistan.
"We're concerned about his [Khan's] safety," Atiqa Shahid, a peace activist and Khan's close friend, told DW.
Shahid and Khan had participated in a group discussion on the issue of extremism the day when the latter went missing.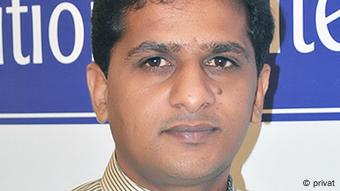 Khan is a peace activist, who campaigns for friendly ties between India and Pakistan
'Missing persons'
Pakistan has witnessed a surge in the number of "missing persons" in the past few years. The non-governmental Human Rights Commission of Pakistan (HRCP) said in its 2016 annual report that 728 Pakistanis went missing during the year.
In January of this year, renowned rights activist and university professor Salman Haider disappeared from the capital Islamabad. Three other secular activists - Waqas Goraya, Asim Saeed and Ahmed Raza - also went missing. After weeks, all these bloggers returned to their homes, with Goraya claiming that he was "abducted" by Pakistan's law enforcement agencies.
Read more: Pakistani activist Waqas Goraya: 'Progressive voices are more united than ever'
While these activists work in different fields, they all have one thing in common: their consistent and sharp criticism of Pakistan's security establishment and conservative groups.
The "missing persons" phenomenon is not new in the South Asian country. Thousands of people have disappeared over the past few years, but most of them are connected with an ongoing separatist movement in the western Baluchistan province or the Islamist insurgency in the northwestern tribal areas bordering Afghanistan. In both places, the army is operating against "miscreants" and "terrorists," which it believes are working against the state.
Read more: Wahid Baloch and the plight of 'missing persons' in Pakistan
"On the day when Khan mysteriously disappeared, we organized a seminar on the rise of religious extremism and the mainstreaming of jihadist groups in Pakistan's politics. We also touched upon the deteriorating civilian-military ties and the fundamental rights of Pakistani citizens," activist Shahid said.
The Lahore-based Lowkey Lokai (community and people) group, which organized the seminar, provides young and liberal Pakistanis with a platform for debates and discussions on pressing issues facing their country. Raza Khan is the manager of these events. In one such program, Khan launched an initiative through which Indian and Pakistani school students exchanged letters.
"I don't know who abducted Khan, but I can assure you that he was not involved in anti-state activities," Khan's brother Hamid Nasir told DW. "I urge the government and security agencies to do their best to recover him," Nasir added.
Chaudhry Mohammad Shafique, a member of Pakistan's National Commission for Human Rights, told DW they were investigating the case.
"The case is at an initial stage and we have not received any information about it from the security agencies," Shafique said.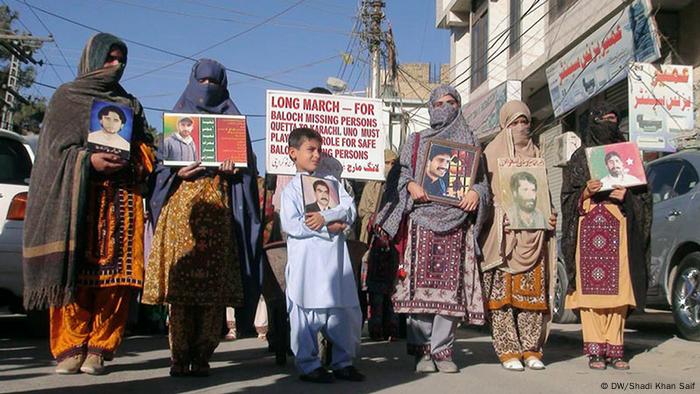 Baloch men and women have repeatedly taken to the streets to protest against apparent kidnappings
Stifling dissent
Rights groups find the trend of activists' abduction and detention of bloggers alarming for the freedom of expression in the country.
"The civil society needs more unity now to protect free speech in the country. In the age of social media, independent thinkers have a platform to voice their concerns against certain actions of the government, and it is their right," Nahyan Mirza, an Islamabad-based development professional, told DW.
"Pakistani society, unfortunately, is being controlled to a large extent by the rightwing. These groups will never tolerate social, cultural and intellectual change that poses a challenge to their power. But I am hopeful the change will come soon," Mirza added.
I. A. Rehman, an internationally renowned rights activist, believes Pakistani society and state are increasingly becoming intolerant toward dissent and dissidents.
"The state suppresses moderate and progressive people who dare to confront and question unjust policies. A very dangerous trend of muzzling dissenting and liberal voices can be witnessed in Pakistan. If Khan has done anything wrong, then he should be tried in a court of law," Rehman told DW.
International rights groups have also expressed alarm over Khan's disappearance.
"Pakistani authorities must take all measures as may be necessary to investigate Raza Khan's fate immediately. Scarcely does a week go by without Amnesty International receiving reports of people going missing in Pakistan. Many of them may have been subjected to enforced disappearances, which is a crime under international law," Amnesty International's Deputy South Asia Director, Dinushika Dissanayake, said in a statement.
Human rights activists have launched a campaign for Khan's recovery in several cities as well as on social media and are trying to build pressure on the government to take action on this issue. They are also using #FindRaza on twitter for their campaign.
Activists also say that Pakistani authorities have an even bigger obligation to improve the nation's human rights record as a member of the UN Human Rights Council, to which it was elected in October this year.
Read more: #IStandWithAhmadis: Pakistanis show support for religious minority on social media