Dubbed "Pakistan's last Jew," Fishel Benkhald, a resident of the southern Pakistani city of Karachi, was originally registered as a Muslim and was named Faisal Khalid. After several months of bureaucratic struggle and paperwork, he was finally recognized by the Islamic country's authorities as a Jew in March this year.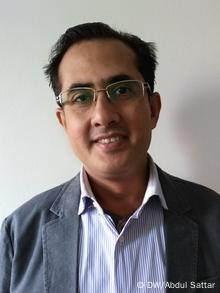 Benkhald: 'It is my religious right to visit the holy sites in Israel.'
Benkhald claims he was born to a Muslim father and a Jewish mother. The South Asian country's National Database and Registration Authority (NADRA) usually does not entertain requests for changing religion on the basis of mother's faith. But the unprecedented decision by authorities to change his religion on the national identity card made the 29-year-old ecstatic. But since then he has been facing hostility in Pakistan, Benkhald told DW.
"When my landlord learnt about my Jewish identity, he asked me to vacate the apartment where I had been living for months," Benkhald said. "Obviously, he did not tell me why he took that decision, but I could sense it was because of my new religious status," he added.
Benkhald lives in Karachi's middle-class neighborhood, Korangi, and works in the mineral ore supply business.
"I rented another apartment in the same area because my children's school was in the vicinity. But I had to vacate that place as well, as the new landlord also learnt about my Jewish identity," Benkhald said.
Benkhald noted that his mother and father had met in Karachi and had a love marriage. He claims his maternal grandparents were Jews. "My father was a secular Muslim and he had no objection to my mother's faith. My mother never practiced Islam; however she was registered as a Muslim. In her heart, she was always a Jew. She taught me many things about Judaism."
Read more: Christian couple beaten to death in Pakistan for 'blasphemy'
Disowned by society and relatives
According to Pakistani media reports, there are about 745 registered Jewish families living in Pakistan. At the time of Pakistan's independence from British rule in 1947, the number of Jews, as well as those of Christians and Hindus, was much higher. But the Islamization of the country, especially since the 1980s, forced the members of religious minorities to either convert to Islam or flee the country.
Islamic extremism has increased manifold in Pakistan in the past few years, and religious hardliners often fan anti-Semitic sentiment that is mostly aimed at Israel. Benkhald said he experiences anti-Semitism on a regular basis.
"The society's attitude toward me changed completely after I got myself registered as a Jew," Benkhald told DW.
"Even my four brothers disowned me and declared me an apostate," he said.
In a report published on March 31 in Daily Pakistan newspaper, Mohammad Iqbal, who claims to be Benkhald's brother, said his brother's claim that their mother was a Jew was false.
"I'm his elder brother working in Saudi Arabia and would like to tell you that he [Benkhald] is… lying. Alhamdulillah [by god's grace], both our parents were Muslims…" Iqbal said.
Benkahlad says he understands why his relatives want to distance themselves from him. "Pakistan is a country where Ahmadis, Christians and Shiites are killed frequently on religious and sectarian grounds. There is immense hatred against the Jews in this country," he claimed, adding that he feared for his life under the present circumstances.
"If my brothers have the right to follow their father's religion, why can't I practice my mother's faith?" Benkhald questioned.
Read more:
Why is Pakistan against its Ahmadi community?
Asia Bibi's appeal against death penalty - A test case for Pakistan
But didn't he know he would face serious problems in Pakistan for publicly declaring himself a Jew?
"I knew I would face problems but I had made my decision. There was a spiritual void in my life, which I needed to fill. I studied both Judaism and Islam, and I was convinced that I could connect with god through Judaism," Benkhald explained.
When asked if the change of religion was a publicity stunt, Benkhald replied: "Who would risk life for the sake of popularity? I am also an activist and I also want to promote religious freedom in Pakistan."
Protection of Jews and Jewish heritage
The 29-year-old says he wants the international community to preserve Jewish heritage in Pakistan.
"In Karachi, there is still a Jewish cemetery, which is in a shambles. The government must protect and restore it. I appeal to the international community to help religious minorities in Pakistan gain complete religious freedom," Benkhald said.
Under British rule, the areas that comprise Pakistan today had a tiny minority of the Jewish people. They even had a synagogue in Karachi.
"There was a synagogue, which was demolished when the military dictator General Zia-ul-Haq was at the helm. My children and I say our prayers at home. I know of many old Jewish families who do the same as we can't pray publicly," Benkhald said.
Read more: Pakistan's disappearing temples and churches
The Pakistani Jew also wants his country to have good relations with Israel. He wants to make a pilgrimage to the holy sites in Israel but the Pakistani government has no diplomatic ties with the Jewish state.
"I want to travel to Israel on my Pakistani passport. It is my religious right to visit the holy sites in Israel," he stressed.