Bargeeta Almby, a 72-year-old Swedish charity worker, was returning from work on Monday when she was attacked by unknown gunmen in the eastern Pakistani city of Lahore. Doctors said Almby was hit in the chest and is still unconscious in hospital.
"A bullet hit her in the chest. We have treated her and she is improving now," Ali Usman, a doctor at the hospital, told AFP. The latest reports, however, say that Almby is still in a critical condition.
The Pakistani police believe the attack on Almby was not a "street crime" as the gunmen did not try to steal anything from her. "Our initial investigations point out to the fact that it was not an attack to snatch money or other valuables from her," Owais Malik, a senior police official, told DW, adding that the police had not been able to find the assailants.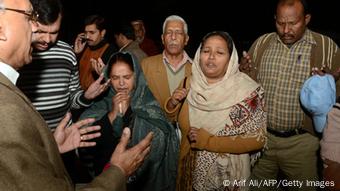 Pakistani Christian charity workers are praying for the early recovery of Almby
This is not the first time a Western citizen has been targeted in Pakistan. In August last year, a 71-year-old US development worker Warren Weinstein was kidnapped from his Lahore residence and is still missing. In April, a British Muslim Red Cross worker was kidnapped in the southwestern city of Quetta and later beheaded. Pakistani authorities blame the operatives of al Qaeda and banned Islamist organizations for attacks on Western charity and development workers.
Charities restrict their work
Almby is the managing director of the Full Gospel Assemblies in Pakistan, a Christian charity organization founded in the US. The organization runs services in Pakistan including a technical training institute, adult literacy center and orphanage. Almby is a teacher by profession and has been living in Pakistan for 38 years. She also speaks fluent Urdu.
"Almby has no enemies," Liaquat Qaiser, spokesperson of the Full Gospel Assemblies, told DW. "Apparently, the attack on her is a result of increasing intolerance and extremism in Pakistan. Almby's only 'fault' was that she was white skinned, and in Pakistan she could be seen as an enemy."
Peter Jacob, executive director of the National Commission for Justice and Peace of the Catholic Church in Pakistan, told DW that the attacks on foreign charity workers could discourage them from coming and working in Pakistan.
"A number of charity organizations have either closed their operations in Pakistan or have restricted their services," Jacob said. "This is only going to isolate Pakistan among the international community."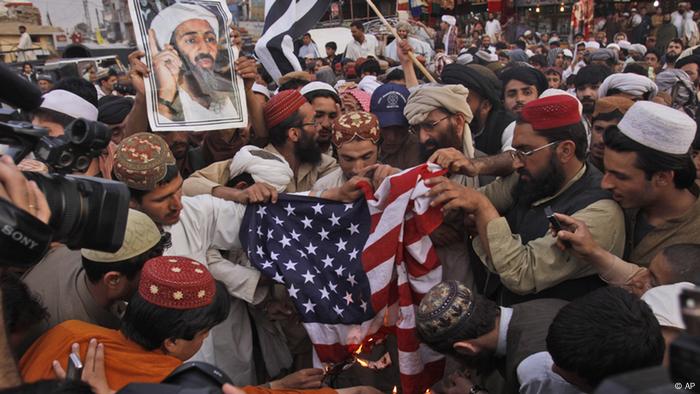 Liberal Pakistanis say their government is 'lenient' towards Islamists
Anti-West sentiment
Anti-West sentiment, particularly the anti-US sentiment, runs high in the Islamic Republic of Pakistan. Generally, the people do not differentiate between US nationals and citizens of other Western countries. For Islamic extremists, all westerners are "kafirs" (infidels), conspiring against Islam and Pakistan, say liberal analysts.
"The extremists do not understand that not all Westerners support US policies. We should at least know who is serving Pakistan and who is working against it," said Zohra Yusuf, chairperson of the Human Rights Commission of Pakistan, in an interview with DW.
Yusuf said that the number of attacks on foreigners had increased in the central Punjab province of Pakistan as that was the area where most international NGOs and charity organizations had offices. She told DW that the Pakistani government had prohibited foreign nationals from living or traveling to the restive northwestern Khyber Pakhtunkhwa province, bordering Afghanistan, for security reasons. She demanded that the Pakistani government secure the safety of foreigners working in Pakistan.