Pakistani Prime Minister Imran Khan said on Thursday that his country would release a captured Indian pilot "as a peace gesture."
Speaking to Pakistani lawmakers in parliament, Khan said the pilot, identified as Wing Commander Abhinandan Varthaman, would be released on Friday. Khan also said that he tried to reach out to his Indian counterpart, Narendra Modi, to de-escalate tensions between the two countries.
"Pakistan wants peace, but it should not be treated as our weakness," Khan said. "The region will prosper if there is peace and stability. It is good for both sides."
Khan's comments came after Modi said that "India's enemies are conspiring to create instability in the country through terror attacks."
Read more: India and Pakistan's troubled history
High tensions in South Asia
India welcomed Pakistan's decision to free the captured pilot but said it remained on a "heightened" state of alert.
"We are fully prepared and in a heightened state of readiness to respond to any provocation from Pakistan," said the Indian Army's Major General Surendra Singh Mahal at a press conference. He said ground-based air defense weapons had been "put on high alert" along the Line of Control that divides disputed Kashmir between the two nuclear-armed rivals.
Top Indian military officials also renewed claims that it had shot down a Pakistani F-16 jet on Wednesday and flashed fragments from a missile carried on the alleged warplane. Pakistan has denied India's claims.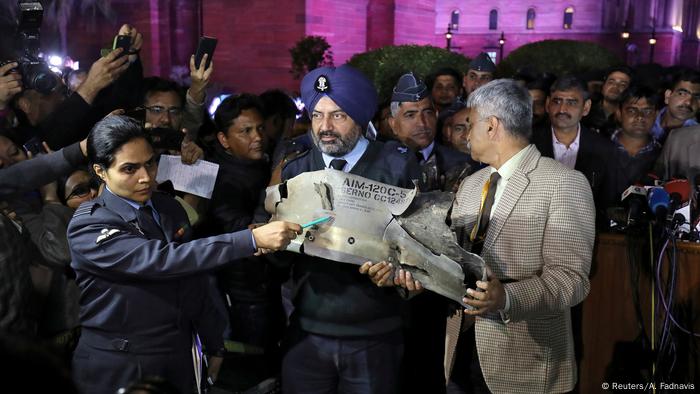 Indian Air Force officials display a wreckage of a missile that they say was fired by a Pakistani F-16 jet
Nandan's plane was one of two Indian planes shot down by Pakistan on Wednesday. Nandan's plane crashed in the Pakistan-held part of Kashmir and the other crashed in the Indian-controlled part of the region. Pakistan later aired a video of Nandan being captured and taken into custody.
Tensions between the two South Asian neighbors have escalated since a suicide bombing by a Pakistan-based terror group killed over 40 Indian paramilitary troops in the Indian-controlled part of Kashmir.
On Tuesday, India responded with a pre-dawn airstrike inside Pakistan. It was the first such raid since both countries went to war in 1971.
dv/amp (AP, Reuters)
Each evening at 1830 UTC, DW's editors send out a selection of the day's hard news and quality feature journalism. You can sign up to receive it directly here.