Pakistan on Wednesday said it had captured an Indian air force pilot after shooting down two Indian jets over the disputed region of Kashmir.
"Today, Pakistan Air Force undertook strikes across Line of Control from within Pakistani airspace," foreign ministry spokesman Mohammad Faisal said.
Read more: Kashmiris face uncertain future as violence escalates
One of the planes crashed in Pakistan's part of Kashmir and the other went down in Indian-administered Kashmir.
Pakistan's chief military spokesman Major General Asif Ghafoor told a press conference that Pakistani troops on the ground captured one Indian pilot, having previously said two pilots had been captured, one of whom was wounded.
India has said that only one of its planes was shot down and that it had shot down a Pakistani fighter jet, a claim Pakistan denied.
India summoned the acting Pakistani envoy in New Delhi and lodged a protest at the "unprovoked act of aggression." It also said the captured pilot's treatment was a "vulgar display of an injured personnel of the Indian Air Force in violation of all norms of international humanitarian law and the Geneva Convention" and ordered his immediate release.
Pakistan's actions come after India launched an airstrike on what it said was a militant training base in Pakistani territory. Tensions between India and Pakistan have escalated since a suicide car bombing carried out by Pakistan-based militants in Kashmir mid-February.
India and Pakistan close airports
Indian officials said three Pakistani jets had also entered Indian airspace, before being intercepted and forced to turn back.
In a separate incident, several people were killed after a helicopter crashed near the city of Srinagar in Indian-controlled Kashmir. The cause of the crash was not immediately clear.
The Indian air force has ordered Kashmir's main airport in Srinagar along with at least three others in neighboring states to close because of the two incidents, an official said.
Indian airlines have canceled service to six cities in northern India. The airlines confirmed that flights to cities including Amritsar, Chandigarh, Dehradun, Jammu, Leh and Srinagar have been affected due to airspace restrictions.
Hours later, Pakistani's Civil Aviation Authority also decided to shut its airspace to all commercial flights as tensions with India escalate.
Read more: India-Pakistan: Troubled relations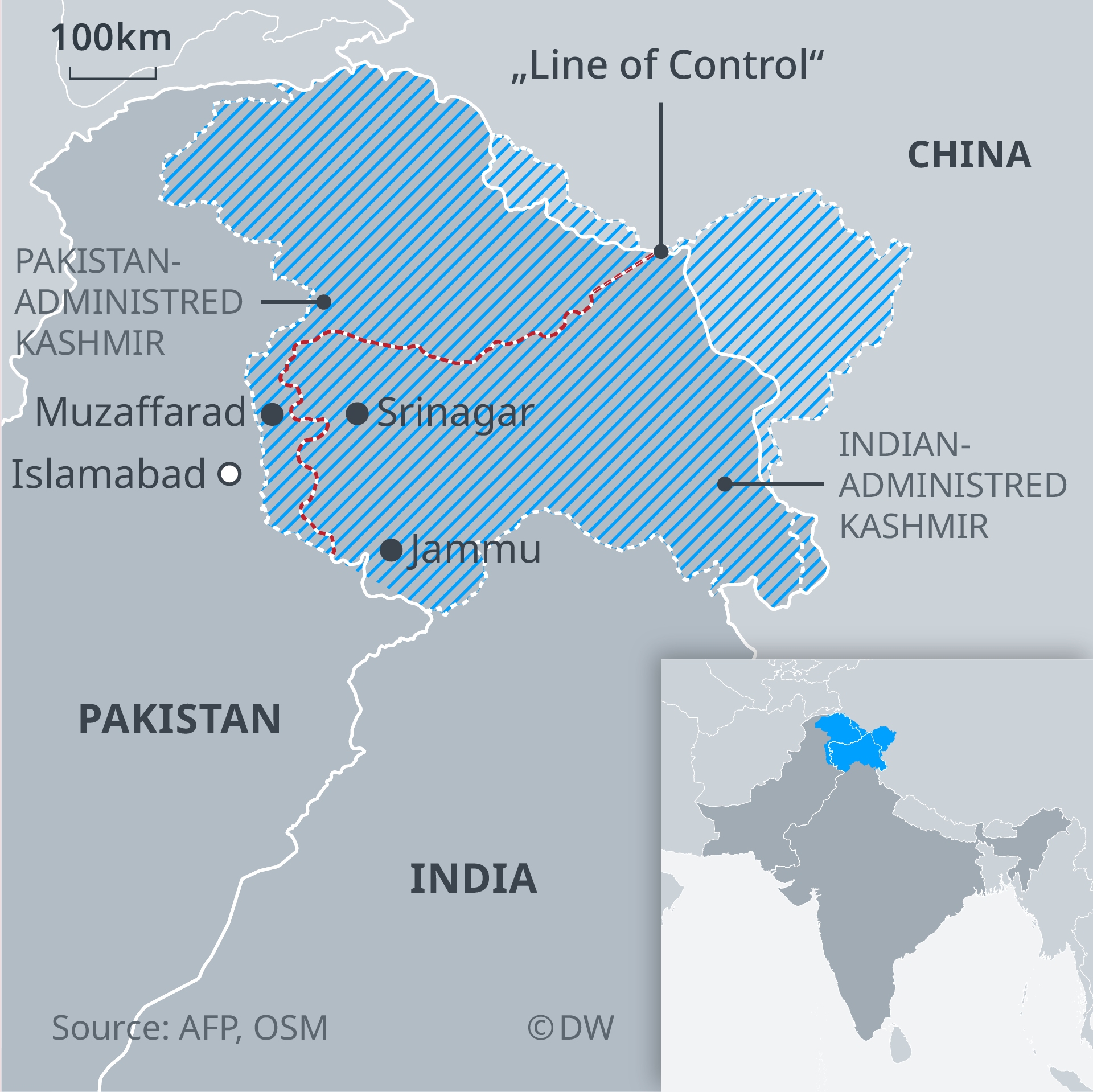 Pakistan 'fully prepared' to escalate
Pakistan's Prime Minister Imran Khan urged India to engage in talks to de-escalate tensions. Addressing his Indian counterpart Narendra Modi in a televised speech, Khan said: "Better sense should prevail ... The kind of weapons you have and we have, can we afford to go for a war?"
"It is easy to begin a war but where it goes ... will be in nobody's control," he added.
Pakistan's foreign ministry spokesman Mohammad Faisal said the "sole purpose of this action was to demonstrate our right, will and capability for self defense."
Read more: Why Kashmir attack could spark a military confrontation in South Asia
"We do not wish to escalate but are fully prepared if forced into that paradigm," he added.
US, China, Germany urge restraint
US Secretary of State Mike Pompeo said in a statement that he had spoken separately with the foreign ministers of both India and Pakistan and urged them to avoid "further military activity."
"I expressed to both ministers that we encourage India and Pakistan to exercise restraint, and avoid escalation at any cost," Pompeo said.
Chinese Foreign Ministry spokesman Lu Kang reiterated China's call for India and Pakistan to exercise restraint following the latest development in the conflict.
German Foreign Minister Heiko Maas (SPD) called for calm on on both sides. "We hope that this will not lead to an escalation," he said.
The EU's foreign policy chief, Federica Mogherini, echoed her German counterpart, warning that
"this has the potential to lead to serious and dangerous consequences for the two countries and the wider region."
ap, law/amp (AFP, AP, dpa, Reuters)
Each evening at 1830 UTC, DW's editors send out a selection of the day's hard news and quality feature journalism. You can sign up to receive it directly here.