Two separate terrorist attacks targeting election rallies have left 133 people dead in Pakistan, officials said. Among those killed was provincial assembly candidate Nawabzada Siraj Raisani.
One of the attacks took place the western province of Baluchistan, where a bomb went off, and the other occurred in the city of Bannu in northwestern Pakistan, involving a roadside bomb.
Read more: Former PM Nawaz Sharif arrested on return to Pakistan
The blast in Baluchistan left 128 dead, making it the most deadly attack in Pakistan in over three years, while five people died in the roadside bomb attack in Bannu.
Akram Khan Durrani, former chief minister of the province of Khyber-Pakhtunkhwa, was the target of the roadside bomb in Bannu; his political group has been a target of the Pakistani Taliban in the past.
Multiple extremist groups operate in Baluchistan
Qaim Lashari, deputy commissioner of the town of Mastung in Baluchistan, where the bomb went off, told DPA news agency that another 130 people were wounded and warned that the death toll would probably rise. The rally had been attended by more than 1,000 people.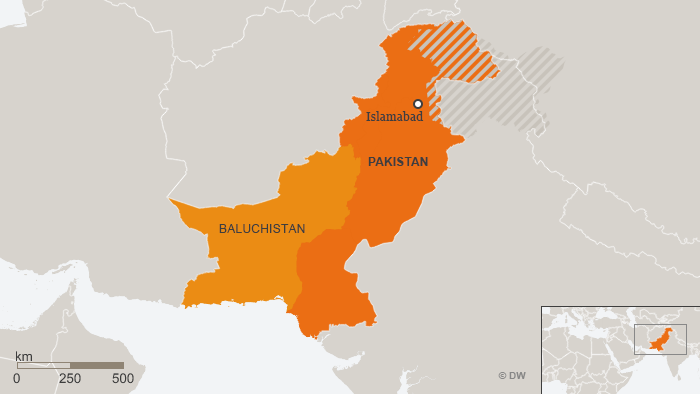 Read more: Maryam Nawaz, challenging Pakistan's powerful army
Baluchistan province has been gripped by extremist activity, with Islamist militants linked to the Taliban, al Qaeda and Islamic State operating in the area, which borders Iran as well as Afghanistan. The indigenous ethnic Baluch insurgency is also actively fighting the central government in the province.
Nawabzada Siraj Raisani, a candidate running for the provincial assembly, was among the dead in the Baluchistan attack. "My brother is no more ... he has been martyred," Lashkari Raisani told Pakistani media after the bombing.
The militant Islamic State (IS) group claimed responsibility for the political rally attack in Baluchistan, making the announcement via the group's AMAQ news agency.
Read more: 'Violent extremism is becoming a new global norm'
Siraj Raisani is the second politician to be killed during this year's Pakistani electoral campaign.
The recent rise in political violence in Pakistan comes amid a government crackdown on political gatherings and growing tensions over former Prime Minister Nawaz Sharif's return to the country and subsequent jailing, as he hoped to lead his party during the elections.
The Supreme Court ousted Sharif last year and convicted him in absentia a week ago on corruption charges.
Sharif's return to Pakistan to face prison defied expectation but Mushahidullah Khan, a spokesman for Sharif's Pakistan Muslim League, said Saturday that the former prime minister would appeal his conviction and apply for bail before Monday's deadline.
Sharif also faces two additional corruption trials, both of which will be held inside the jail, according to Khan. He said security was cited as the reason for the designated location.

bik, jcg/jm (AFP, dpa)
Each evening at 1830 UTC, DW's editors send out a selection of the day's hard news and quality feature journalism. You can sign up to receive it directly here.