It has become a well-established ritual on the annual political calendar: Mid-November or early December is the time for the Conference of the Parties (COP), the signatories of the United Nations Framework Convention on Climate Change, to come together. That means representatives from 196 countries, as well as the European Union and regional alliances of states. Even if signatories were only to send one representative each, a large conference room would be needed.
But, of course, the annual COP involves much more than that. The conference, now taking place for the 23rd time, seeks to do no less than save the world. At least that is the impression that many protagonists attempt to evoke. Therefore, every year around this time a number of evermore alarming scientific studies appear, highlighting catastrophic scenarios: The earth is warming faster than ever, storms are getting worse, polar ice caps are melting. And that is also why an ever greater number of island countries everywhere will soon disappear into the ocean.
Therefore, it is only fitting that one such island state, Fiji, should lead this year's annual chat session, even though it is being held in Bonn, Germany. That is not because Fiji is in danger of disappearing under the ocean waves over the next two weeks — at its highest point it is 1,324 meters (4,344 feet) above sea level, Bonn, at 60 meters above sea level, would seem an illogical choice in that instance. No, the island republic would simply not be able to house the conference's 25,000 guests. Bonn, as the headquarters of the UN Climate Secretariat, was happy to jump in so as to polish its image as a UN seat. And of course German taxpayers were only too happy to pitch in the more than €100 million ($118 million) required to pay for the massive advertising offensive.
The conference kicked off with a large dose of Fijian folklore, in which neat-looking shirtless men sporting leather aprons drummed up a South Sea mood. One can certainly take the fact that a number of them caught colds as a good sign — at least global warming hasn't yet had strong a effect in the foggy Rhine region.
Midlevel working group
The negotiations in Bonn sound more like agenda points run through by a working group of midlevel importance than the work of the largest multination conference ever held in Germany. Two years after the international climate accord was signed in Paris, the task at hand in Bonn was to establish just who was required to do what in the fight against climate change and how their contributions could be measured. Binding agreements were not on the agenda. Those are to be dealt with next year, when signatories meet once again, this time in Katowice, Poland.
Why did German Chancellor Angela Merkel, French President Emmanuel Macron and 25,000 other guests even need to attend such a second-rate event? The answer for the first two is easy: Their presence has a symbolic value. President Donald Trump may have pulled the United States out of the agreement, they say, but we take the subject seriously. And voters, ever more convinced that the end of the world is approaching, are mindful of that symbolism.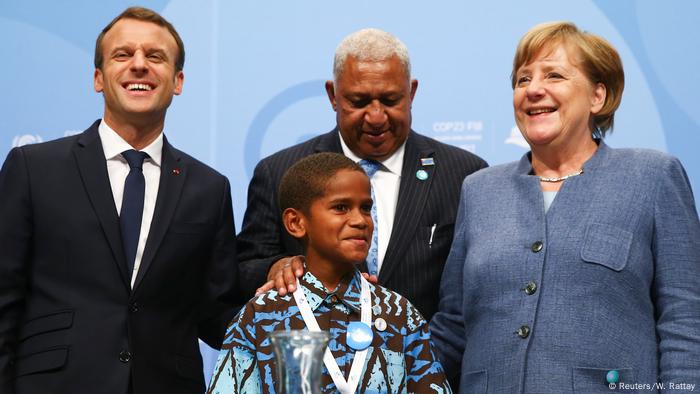 Macron, COP23 President and Fiji's Prime Minister Frank Bainimarama and Merkel pose for a photo with a boy from Fiji
The majority of the conference's 25,000 attendees are not even involved in negotiations. Alongside journalists, most of those in attendance are from non-governmental organizations (NGOs) — environmental groups, scientists and businesses. Their presence is a sign of transparency, organizers say, and designed to facilitate exchange and networking. Though one could add that these NGO members' attendance also helps the acquisition of jobs and new subsidies, with which the next catastrophe study can be financed.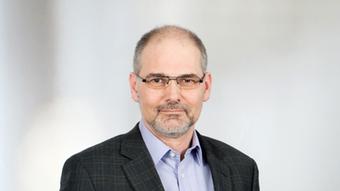 DW's Felix Steiner
The significance of this, the self-referential portion of the annual traveling climate circus, can be clearly measured by the fact that its portion of the enormous tent village constructed for the conference is much larger than that in which governments are negotiating. Furthermore, no expense was spared in providing the men and women attending the conference a bit of absolution from the massive climate sins they committed in getting to COP. Every available electric bus in Germany was commandeered and brought to Bonn in order to provide attendees with an environmentally friendly shuttle service.
It would also be in poor taste to ask about the carbon footprint left by the conference — especially as most of the electricity used to run Bonn's charging stations is derived from the region's lignite coal power plants. Such a query would only upset the mood of those inhabiting this taxpayer-funded parallel universe.