The fact that Russian President Vladimir Putin is to visit German Chancellor Angela Merkel in Berlin on Friday is meant to underline the role Germany plays in Russian foreign policy.
But German politicians shouldn't think that Putin is simply going to continue Medvedev's style of foreign policy, or indeed his own from 2008. For the head of the Kremlin the importance of the west - and that of Europe - will certainly lessen in the years to come.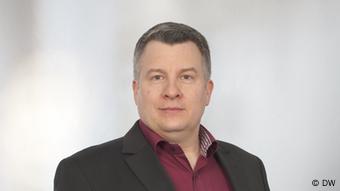 Ingo Mannteufel is head of Deutsche Welle's Russia desk
Europe more important than the US
Europe and particularly Germany are still important anchor points for the Russian economy; after all, the European Union is still its most important trading partner, as far as Russia is concerned.
Putin is not only going to visit the German chancellor, but also French President Francois Hollande in Paris. Two days later, on June 3 and 4, Putin is welcoming the heads of the EU at the 29th EU-Russia summit in St. Petersburg - European Council President Herman Van Rompuy and European Commission President Jose Manuel Barroso.
These meetings certainly underline how important Europe still is for Putin - unlike the US, which seems to have fallen from grace at the Kremlin. After all, when the chance to meet US President Barack Obama presented itself at the G8 summit in Camp David, Putin declined - rather briskly and at short notice. There's hardly a way to better show one's dissatisfaction.
At the root of this lies the disappointment that under Obama, the US continues to push for the NATO missile defence shield, which the Russians vehemently oppose. As long as Obama is caught up in the upcoming presidential election, Putin knows that the necessary political compromises are unlikely to happen. Russian-American relations are almost certainly on hold until election day. But this shouldn't be regarded simply as a political maneuver.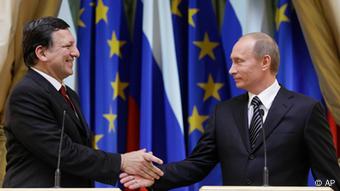 Vladimir Putin meets European leaders before heading east
Putin is set to put more distance between Russia and the west in the coming years. This is not only because US-European criticism of Russia's democratic shortcomings don't go down well with Putin and his government. It's rather that the problems of integration in former Soviet territories and relations with China are currently of greater concern to Russian foreign policy.
Moscow holding court
Over the past months, Putin has been propagating the idea of a Eurasian Union spanning post-Soviet territory. So far, its only members are Russia, Belarus and Kazakhstan, but these bonds have once again become top priority for Russia - that much was obvious as soon as Putin had taken office.
Having cancelled his participation at the G8 summit in the US, ostensibly to form his new government at home, he still found the time to meet the presidents of Kyrgyzstan, Tadzhikistan, Kazakhstan, Belarus and Ukraine for an informal CIS summit.
It is Putin's aim to strengthen the ties with post-Soviet states, both politically and economically. For him it comes as an advantage that the US and the EU are both suffering from an economic and financial crisis. On top of that, the US is worn out by the global war on terror. It's an opportune moment for Moscow to step up its integration measures to the east and lure neighbors away from the EU.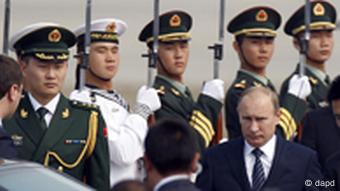 Relations with China are of more pressing concern to Russia
The Chinese factor
It's for these reasons too that China will become more important to Russian foreign policy. For one, many in Russia still see room for improvement when it comes to Russian-Chinese trade cooperation and economic investments. Besides that, China is becoming increasingly important for Moscow on a political level.
This holds true for diplomatic interventions on a global stage (as seen in the case of Syria), as well as for pursuing a integration in post-Soviet territory. Here, Russia is feeling the consequences of China's vigorous economic investments in Central Asia. Through the Shanghai Cooperation Organization (SCO), the country is also linked to Russia and the former Soviet republics on national security policy.
It is therefore no coincidence that after his "European" meetings, Putin will be leaving - via Uzbekistan - for China. There, during an SCO summit, he is going to meet the Chinese President Hu Jintao on June 6 and 7. After that, his return to Moscow will include a detour to Kazakhstan.
Putin's travel itinerary therefore reflects his recent remarks on foreign policy. Though it may be too early to say, it appears as if Putin has few expectations left of the west. Europe's approach to Russia, named "Change Through Rapprochement" would then indeed have failed.
Author: Ingo Mannteufel / ag
Editor: Ben Knight