The 2018 Frankfurt Book Fair was one that emphasized human rights, marking the 70th anniversary of the Universal Declaration of Human Rights. Still, one could also claim that the event does so every year.
In 2015, the fair reacted directly to Merkel's "We can do it" migration policy. Authors and publishers showed their enthusiastic solidarity with the refugees who had arrived that year.
The 2016 event was filled with indignation over the suppression of freedom of expression in Turkey. Discussions focused on how people wrote and read under dictatorships and in while living in exile.
The following year was loud and lively, introduced by French President Emmanuel Macron's rousing pro-European speech alongside German Chancellor Angela Merkel. 2017 was also the year of protests and frictions between activists and far-right publishers.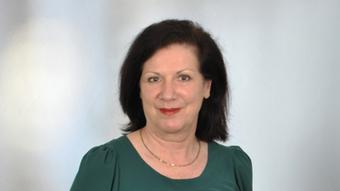 DW literature expert Sabine Peschel
What about 2018? It felt like summer in Frankfurt during the first days of the event, which were reserved for industry professionals. The sunny weather could have inspired everyone there to relax. But that was not the case.
Read more: Chimamanda Ngozi Adichie fires up Frankfurt Book Fair 2018 opening
Authors under pressure
Despite the fact that the book fair welcomed a higher number of visitors and stands than last year, despite the fact that the book market is relatively stable, a dark atmosphere could be felt at the Frankfurt Book Fair.
There weren't any heavy confrontations. The far-right publishers had been mostly banned to a remote corner in Hall 3.
Yet one could fell the almost grim determination to defend human rights and freedom of expression, a reaction to current global trends.
As a German PEN study on free speech published during the book fair showed, the majority of authors feel under attack thanks to hate mails and insults in social media, and this makes them more cautious in their public statements. This situation is a dangerous restriction on freedom of expression.
Another concrete example of how freedom of opinion is currently affected comes through the selected books that are allowed to be published in Poland or Hungary, or the translation projects that are funded by the state.
The fight for human rights is also a very real task for those who are advocating for the release of the over 100 writers and journalists currently imprisoned in Turkey, or protesting the some 150 media outlets that have been closed down. German-Turkish journalist Deniz Yücel, who had been imprisoned in Turkey, had a lot to say during the event.
Defending a Europen identity
Europe was another central issue this year, but the way the EU's foreign policy chief Federica Mogherini sober opening was miles away from Macron's euphoric speech. She spoke of identity, about how "European identity, is not what comes on top of — not to mention in contradiction with — our national or local cultures and identities" — a statement that reacts directly to the current far-right identitarian movement.
A ray of hope also came through at this year's 70th book fair: The guest country, Georgia, created a strong connection with potential readers through its public readings and events promoting the country's writers. Despite its polarized identity burdened by its Soviet past and the ongoing Russian occupation of large parts of the country, Georgia definitely belongs to Europe.
The 2018 Frankfurt Book Fair has become even more political than it already was, and that's a good thing.