There were already signs that an agreement was close, like rumors of frenetic diplomatic activity between Ankara and Berlin or numerous direct talks between German Foreign Minister Sigmar Gabriel and his Turkish counterpart, Mevlut Cavosoglu. And it has just come to light that even President Recep Tayyip Erdogan was involved in the past 10 days. Turkish Prime Minister Binali Yildirim was just in Berlin on Thursday to meet Chancellor Angela Merkel. In an interview on German television, he said that he wanted Die Welt journalist Deniz Yücel to be released. The statement came as a shock. After all, it was the Turkish government that arbitrarily arrested Yücel just over a year ago and held him without charges until his release on Friday.
Read more: A timeline of the year Deniz Yücel spent in Turkey's prisons
Right now, everyone is just happy for Yücel. Thousands of journalists, friends and relatives in Turkey and Germany spoke up for his release over the past year. Prosecutors are seeking an 18-year prison sentence, but the fact that the court has released the German-Turkish reporter tells another story — hopefully.
Turkey has picked too many fights
Of course this does not necessarily mean that Erdogan has come to his senses and decided to respect human rights in the future. And this is certainly not a victory for the rule of law. Yücel's release is as political as his arrest last year. Turkey probably just realized it has picked too many quarrels with foreign partners in recent months. German citizens were arrested in Turkey, and Turkish politicians compared present-day Germany to the Nazi regime. Similar disputes were sparked with other European countries as well as Ankara's NATO partner the United States because of Turkish attacks on Kurds in Syria.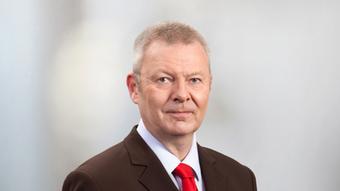 Jens Thurau is a DW correspondent in Berlin
Among the issues hampering German-Turkish relations, Yücel's imprisonment for allegedly supporting terrorists weighed heaviest of all. Now that the burden seems to have been lifted, it is important not to forget that several other German citizens are still behind bars in Turkey, most arrested on flimsy pretexts.
Erdogan's power does have its limits
The most important message apart from Yücel's freedom is perhaps that the power of Turkey's erratic president does have its limits — at least in relation to other countries. That is why it is vital that the acting German government — and especially the future one — does not simply return to a business-as-usual mode with Turkey. Since the failed coup against Erdogan in the summer of 2016, almost everything has changed: The human rights situation in Turkey has become all the more precarious and the country's membership in the European Union seems almost unattainable. That is why Berlin will have to exercise extreme restraint in the future, especially with arms sales to its NATO partner Turkey. One of the dark sides of efforts to release Yücel was Foreign Minister Gabriel's occasional attempt to close a weapons deal.
Gabriel's last chance?
Nevertheless, Yücel's release is also a success for German diplomacy and Gabriel, who is actually quite unpopular within his Social Democratic Party. He probably has little chance of running the Foreign Ministry in the new grand coalition — at least not by the look of things. But his part in Yücel's release does increase his chances considerably.