Addressing members of the press in Berlin on Thursday, the German chancellor said she saw many hurdles still in the way of normalization of German-Turkish relations.
There has been tension between the two countries over the past year, especially in light of increased powers acquired by President Recep Tayyip Erdogan following a controversial referendum last year.
"We know our bilateral relations have entered choppy waters and to a degree are still there, but we're trying step by step to resolve the cases", she said.
However, Merkel added: "We want to intensify our contacts."
While Berlin claims six German citizens are being held in Turkey for political reasons, it was the case of German-Turkish journalist Deniz Yücel which had attracted much of the attention ahead of the talks as it has been a major cause of diplomatic tension between the two countries. The correspondent for Die Welt in Turkey has been detained on terror charges for a year.
Read more: How Deniz Yücel's year in prison affects German-Turkish relations
Fast and fair
Merkel was asked about Yücel's case and replied that she hoped for a fast and fair judicial process. While Yücel's case had been discussed in the meeting, there was no link between it and other issues under discussion, she said.
"I said during the talks that we hope for a fast and constitutional [judicial] process for Deniz Yücel," Merkel told journalists on Thursday.
Prime Minister Binali Yildirim said the Turkish courts had a lot of cases to hear following the attempted coup in July 2016 which had caused delays but added nothing further to his comments from earlier in the week. Yücel's case was up to the Turkish courts, not the government, the prime minister said. "I hope that his trial will start soon and that it comes to a result."
In an earlier interview on ARD German television, Yildrim had said of Yücel: "I hope that he will be released soon. I think there will be a development shortly."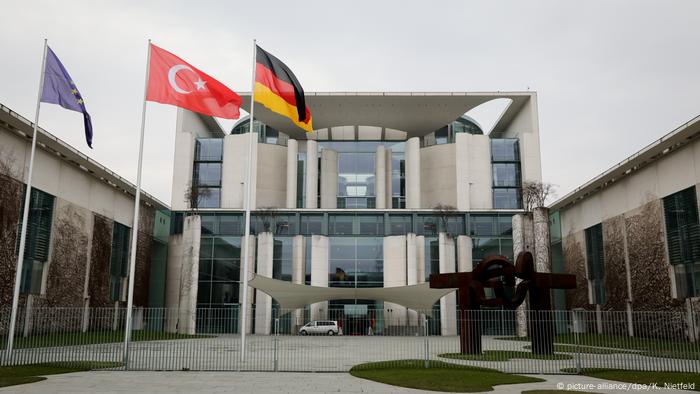 The Turkish flag flies between the EU and German ones outside the Chancellery
Preventing harm
Yildirim said cases such as Yücel's should not affect bilateral relations: "We do not want these and similar matters to harm relations between Turkey and Germany."
On the agenda for the meeting were Turkey-EU relations, bilateral trade and anti-Islam and ultra-nationalist movements in Europe. Yildirim said the 3.5 million Turkish nationals living in Germany acted as an "important bridge" between the two countries.
Yildirim said he was encouraged by what he called Germany's "firm stance" against the activities of the outlawed Kurdistan Workers' Party (PKK).
Ahead of the talks, Green politician Cem Özdemir had criticized what he saw as an overly-friendly approach to Turkey and called for press freedom, democracy and the rule of law to be restored in Turkey before relations with Germany were normalized.
jm/cmk (dpa, Reuters)
Each evening at 1830 UTC, DW's editors send out a selection of the day's hard news and quality feature journalism. You can sign up to receive it directly here.