Turkey released another German prisoner from jail Friday in what appears to be a growing desire in Ankara to jump-start its frosty relations with Germany.
The release of the unnamed German was affirmed in a foreign ministry statement, which said the ministry can "confirm the unconditional release of a German citizen who had been jailed for political reasons in Turkey."
But Berlin called on Turkey to do more — in particular, it wants Ankara to release seven more German citizens being imprisoned "for political reasons," according to German officials. All told, Berlin claims there are a total of 50 Germans behind bars in Turkey.
Ties between the two countries became severely strained amid a failed coup in Turkey in 2016 and Ankara's subsequent crackdown. Germany and other Western countries have criticized Turkey's response as excessive, with some 55,000 people put in jail and well over 130,000 public sector employees stripped of their jobs.
Germany is home to a large Turkish diaspora and has pressed the European Union to cut funding linked to Turkey's EU membership talks, which have virtually ground to a halt.
Turkish President Recep Tayyip Erdogan expressed hope for improved relations with Germany and the EU after a tumultuous 18 months. With an eye on warmer relations, Turkey recently released German citizen David Britsch and German journalist Mesale Tolu.
But Deniz Yücel, a German-Turkish correspondent for Die Welt newspaper, remains in jail nearly a year after his arrest, and there is no date set for a trial.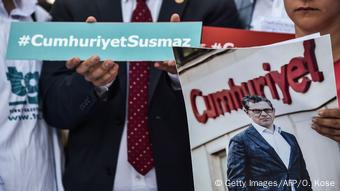 A protester holds a poster of a jailed Cumhuriyet journalist
Cumhuriyet employee released
Separately, a court released a jailed employee of Cumhuriyet, one of Turkey's leading newspapers. The paper's accountant Emre Iper was released Friday after nine months in prison on terrorism-related charges.
Three of his co-defendants from Cumhuriyet — editor-in-chief Murat Sabuncu, chief executive Akin Atalay and investigative journalist Ahmet Sik — remain behind bars, and their trial is not expected to resume before March.
Iper's release was a sudden about-face as a court on Monday had ordered all four defendants to be remanded into custody.
Iper is accused of having the free-to-download ByLock application on his phone. The government said the encrypted software was used by followers of US-based cleric Fethullah Gulen, whom Ankara accuses of orchestrating the failed coup.
Turkey has also branded Gulen's movement a terrorist organization. Gulen, who is living in self-imposed exile in the United States, rejects Turkey's allegations.
Turkish officials said that more than 10,000 people may have been unwittingly redirected to the ByLock messaging app and that some 1,000 people could be released imminently, according to local media reports.
bik/jil (AFP, dpa)