In the days of constant opinion polls, there's little room in elections for big surprises or sensational results. It's been clear for months that the right-wing Alternative for Germany (AfD), founded in 2013 as a protest party, would continue its upward swing in Mecklenburg-Western Pomerania's regional elections.
This is the place where the extreme right-wing National Democratic Party (NPD) has been in parliament since 2006. And, of course, it's good news that they've finally been kicked out, making all German state legislatures free of true Nazis.
That they're being replaced on the opposition bench by right-wing populists will be of little or no consolation to many. But to lump criticism of the fear-mongering AfD in with that of the NPD is unfair, and it paints the situation as entirely hopeless when in fact there are still quite a few important differences between populism and extremism.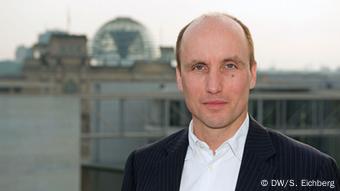 DW's Marcel Fürstenau
Sham debates, symbolic politics only benefit the AfD
The fact that the new right's rhetoric often narrowly skirts the edge of racism, or even occasionally crosses the threshold, is worth considering here. Because of this they should, and have been, put in their place. Sometimes even from within their own ranks.
This happened, for example, in the state of Baden-Württemberg, where their parliamentary group split after a row over earlier anti-Semitic writings by one AfD lawmaker.
That the AfD continues its string of successes despite bitter power struggles and infighting is what most frustrates Germany's mainstream parties. However, they risk drawing the wrong conclusions from this turn of events, and associating the AfD solely with hot topics like refugees and Islam might make them come apart at the seams.
That is, however, exactly what happens when the center-right parties the Christian Democrats (CDU) and Christian Social Union (CSU) support measures like stopping dual citizenship or banning the burqa. Transparent political maneuvers like these, right before elections, just end up benefiting their opponents. This guarantees, and justifiably so, that some might turn to support the AfD's positions.
Traces left by Berlin's chaos
It's true that the CDU and Social Democrats (SPD), Greens, Left party, and Free Democrats (FDP) fought a losing battle in Mecklenburg-Western Pomerania. The mood one year after the start of the refugee crisis, which might have been an opportunity for them, is still too heated to prudently introduce nuanced social discourse.
But is that not the fault of Berlin's ruling protagonists, Chancellor Angela Merkel (CDU), her second in command Sigmar Gabriel (SPD), and that nuisance in Munich, Bavarian leader Horst Seefhofer (CSU)? Their drawn-out argument over the correct way to handle a historically unprecedented situation has been taken by the public as an irresponsible sign of weakness from their leadership, and understandably so.
Where this leads has become widely known: Voter fatigue or protest votes. In 2011, voter turnout in Mecklenburg-Western Pomerania was just under 50 percent. It has now become obvious how nimbly the AfD was able to strike a chord with the discontented.
If the other parties want to stop the skyrocketing success of this upstart newcomer, they must finally change their strategy. Pointing out the weaknesses and unreasonable demands of the AfD is an obvious strategy. But the parties must also emphasize their own strengths, confidently and aggressively.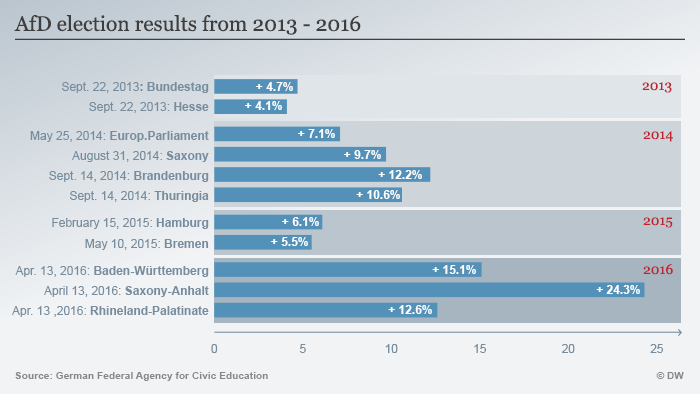 A lot can happen in a year
There is still one year left until the 2017 general election. What can happen in 12 short months has been shown in AfD's swift upward climb. It's no longer possible for them to disappear into oblivion by next year, as they are now represented in nine of Germany's 16 regional parliaments.
The other parties must now swallow the bitter pill and treat them as a legitimate opposition party. Trying to cut them out completely is the wrong way forward. Exercising competent politics, which is more convincing over the long term, is a better way to stop the right-wing populists. Let trust win your voters back.
On that note, two weeks before the election for Berlin's state parliament, we turn to Protestant Bishop Markus Dröge. In an interview with the "Tagesspiegel" newspaper, he pleaded for an objective debate, "even if it's difficult for politicians who rely heavily on emotional arguments." Dealing with the AfD is more than a question of faith and hope. One must also have patience.
Add your comments below. The thread stays open for 24 hours after publication.