The center-left SPD, which garnered a better-than-forecast 30.6 percent in Sunday's election, said Chancellor Angela Merkel must change tack on her refugee policy of the past year and not simply stick to her phrase "We can do this!"
"The public is deeply worried and one must respond to this," said State Premier Erwin Sellering (pictured above), adding that refugee issues had played a "great role" in tempting voters to vote populist.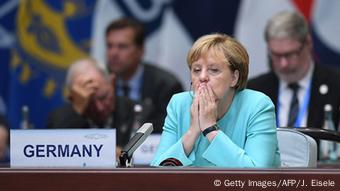 Merkel's conservatives finished at 19 percent
The SPD won Sunday's nationally-watched regional poll with a little more than 30 percent support after what Sellering called one of his party's hardest ever campaigns.
Entering the state's 71-seat assembly in Schwerin for the first time and placing second was the upstart anti-immigrant Alternative for Germany (AfD) and its regional lead candidate Leif-Erik Holm, with 20.8 percent support.
Merkel's conservatives, the Christian Democratic Union (CDU) and its lead candidate Lorenz Caffier, who previously governed in Schwerin with the SPD, finished at 19 percent, in third place behind the populists.
Result 'bitter': CDU's Tauber
In Berlin, CDU federal general secretary Peter Tauber - standing in for Merkel who is at the G20 summit in China - said the result was "bitter" but stressed it would not influence the prospect of Merkel contesting a fourth federal term.
The AfD had targeted Merkel since her decision a year ago not to close Germany's border to refugees arriving from war zones such as Syria via Hungary and Austria.
CDU candidate Caffier, who had campaigned against the burqa and dual citizenship, also demanded that Merkel change course.
"The federal government must react," Caffier said, recalling that constitutionally it was primarily responsible for Germany's borders and the intake of refugees.
Caffier, whose CDU has governed Mecklenburg-Western Pomerania with the SPD for the last decade, rejected talk that he quit his regional party leadership.
"I think at the moment I have no reason to do so," he said.
Early prognoses for seat distribution in the Schwerin assembly gave the SPD at least 24 seats, leaving the CDU with 16, the AfD with 17, the opposition post-communist Left with 10 and the Greens just under the 5-percent threshold.
Absent from parliament will be the neo-Nazi NPD, which previously had five seats. The pro-business liberal Free Democrats (FDP) also failed to clear the 5-percent threshold required to gain a seat in the assembly.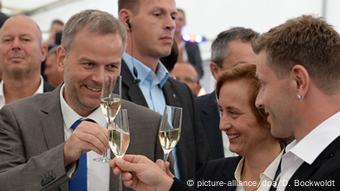 The AfD's Leif-Erik Holm (left) celebrated Sunday's outcome
AfD eyes 2017 election
AfD veteran strategist and deputy chairman Alexander Gauland said Sunday's result had great symbolic power ahead of next year's federal election and would add impetus to Berlin city-state's election on September 18.
Citizens no longer wanted Merkel's policies, Gauland claimed.
Federal Greens co-leader Cem Özdemir told ZDF public television that all democratic parties had lost ground on Sunday, and warned against simply putting the blame on Merkel.
The frustration that had boosted the AfD was the behavior of Merkel's coalition comprising her conservatives and Social Democrats led by Vice Chancellor Sigmar Gabriel, Özdemir said.
"That is not a coalition, it's an argumentative club," he said.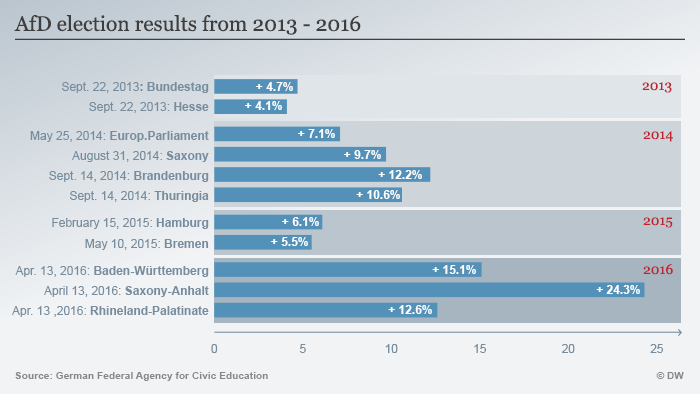 ipj/cmk (dpa, Reuters, AFP)