For a long time, he hesitated. But then, Majid al-Yousuf (not his real name) decided that he could no longer bear life in Syria in the midst of civil war. He left his home in Damascus, traveling via Turkey, Algeria, Libya, and Italy until finally reaching Germany.
"In Damascus I was in the sixth semester of a course in information technology," Majid told DW. "But the situation was becoming increasingly difficult, so I gave up my studies. My younger brother and I convinced our father to sell his car. Our uncle loaned us some more money, giving us a total of $8,000 [7,450 euros] for the journey."
While preparing to flee, Majid and his brother had the support of friends. They found further advice on social networking sites where Syrians who had successfully fled to Europe shared their experiences and gave opinions on the best route. "This is how we got in touch with a smuggling group in Algeria. And from them we were given contact to a further group in Libya."
In the hands of people smugglers
The first step was the flight from Turkey to Algeria. "That part was easy," said Majid. "The Algerian border is open to Syrians."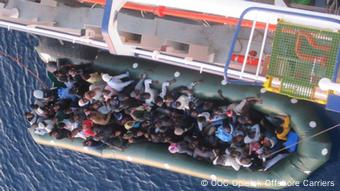 Refugees pay hundreds of dollars to get on the boats
From the airport, they continued on to the Libyan border. Majid said he was part of a group of 12 Syrians. "For this part of the trip, each one of us paid $300. Soon after we set off, we were handed over to a different group of smugglers who took us over the border into the Libyan desert. From there, another group brought us to the coast. And after a few hours of rest, we continued on."
"The smugglers normally take $600 per person for the crossing to Italy," said Majid. "But we each paid them $1,100. For that, we wanted to be treated properly on board, and be given food and drink. We also wanted to be sure that we would all be together on the same boat." But they soon encountered another problem. "They took our suitcases away from us to lessen the load in order to pack more people onto the boat."
Smuggling out in the open
In Libya, Majid noticed one thing in particular. "All the smugglers are networked. Each group controls their own territory. But I think that all together, they form one big gang." He said that the smugglers did not go unnoticed. "Libyan soldiers watch the attempts to flee, but they don't lift a finger."
German journalist Wolfgang Bauer had similar experiences researching human trafficking. Together with a friend, he pretended to be a refugee wanting to travel from Egypt to Italy across the Mediterranean. But the trip never happened. Instead, Bauer went to Libya. In Misrata and the village of Zuwara in the far western part of the country, he was able to observe the smugglers up close. He also reported that they make little effort to disguise their business in public.
Things are very different in the city of Tobruk in the eastern part of the country, though. In Libya, two governments are competing for power; one of them is based in Tobruk, and is fighting the smugglers. It hopes its efforts will smooth relations with the West, which recognizes it - and not the competing government in Tripoli - as the legitimate state power.
Horror on the Mediterranean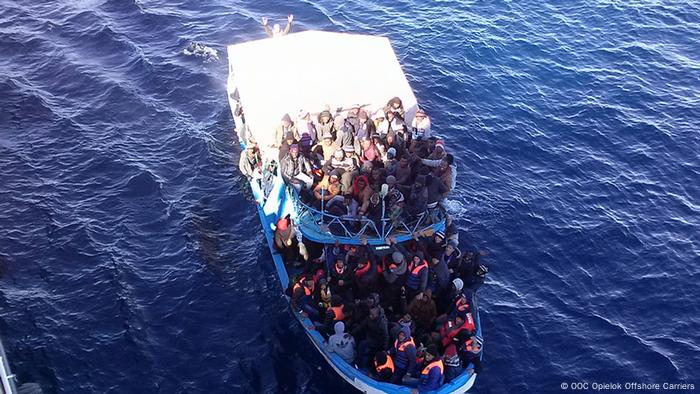 Over a thousand people have died making the crossing this year alone
For Majid, however, the journey continued on from Zuwara. "We climbed into a small rubber dinghy which brought us to a bigger boat. And that's when the horror started." He says there were around 300 people on the boat. "The smugglers told all the young men to go below deck to the engine room. The women and children remained up top."
"Below deck, it was very hot and there was hardly any air. There was just a tiny hatch, and we got a bit of air through there. Despite this, many people were sick and lost consciousness. It was unbearable."
He and his friends felt cheated. "Even though we had paid $1,100 each, they treated us as though we had paid $600," he said.
Arrival in Italy
The trip took six hours. Then, the boat encountered an Italian coast guard ship. The crew took on the passengers and brought them to a refugee center where they were given something to eat and drink, and offered accommodation.
Other passengers later claimed that the boat hadn't even been steered by the smugglers themselves, but rather one of the refugees who knew a bit about navigation. "They gave him a GPS device and a satellite phone," said Majid. "In case of an emergency he was to contact the Italian coast guard."
Majid finally made it to Italy. But a safe arrival is not a guarantee for the thousands of others like him hoping for a better life in Europe. As recent tragedies have shown, crossing the Mediterranean is a risky venture for migrants - one that all too frequently ends in death.