Belgian and Dutch authorities are attempting to build a protective sand bank around the Zwin nature reserve, which straddles their common border, officials said.
"Calculations show that it is possible that oil reaches the Zwin," West Flanders authorities said in a Facebook post.
The governor of the West Flanders region in Belgium, Carl Decaluwe, was quoted by the dpa news agency as saying that the measures were preventative.
The Zwin nature reserve is an important stopover for thousands of migrating birds. Members of the environmental protection organization Vogelbescherming Vlaanderen (Bird Protection Flanders) are preparing to care for oil-smeared birds.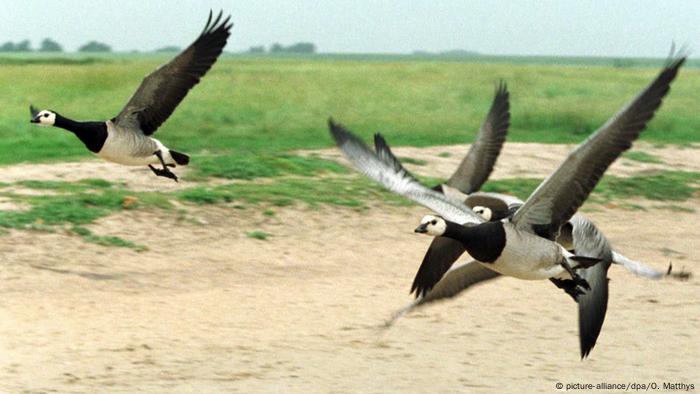 If oil reaches the Zwin natural reserve, it could harm coastal wildlife
According to the Belga news agency, an unspecified amount of oil had already leaked from the ship, and was being vacuumed up. During the afternoon, two small oil slicks caused by the accident were present some 8 kilometers (5 miles) from the shore. These slicks were apparently moving toward the north, thus posing no immediate environmental threat.
Collision cause not yet clear
The Dutch cargo ship Flinterstar was carrying 125 tonnes (138 tons) of diesel and 427 tonnes (470 tons) of fuel oil when it collided with the Al Oraiq tanker - which is registered in the Marshall Islands - 8 kilometers off the Belgian coast Tuesday morning (06.10.2015).
Both boats were damaged in the collision - but the 315-meter (1,000-foot) long tanker was able to make it to the Belgian port of Zeebrugge. The 130-metre long Flinterstar partially sank in a sand bank. All 12 crewmembers were rescued.
Decaluwe told a Belgian radio station that "some 20 ships were involved in the rescue, because there is little time to save people considering the hour and temperatures."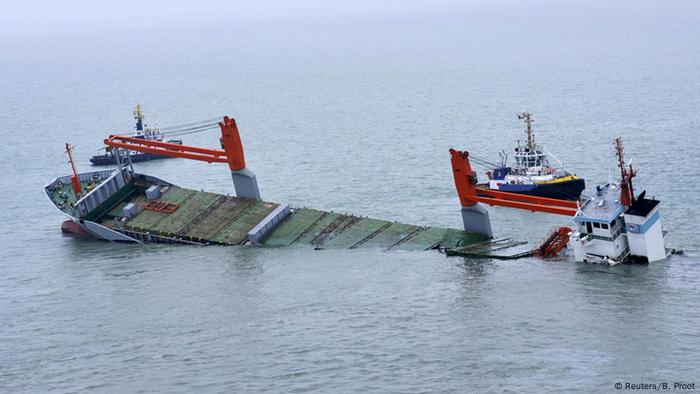 Dutch freighter Flinterstar partially sank after the collision - all 12 crewmembers were rescued
The collision happened just after 4 a.m., with air temperatures below 10 degrees Celsius (50 degrees Fahrenheit). The reason for the collision is not yet clear.
hmf/sad (afp, dpa)