Tensions between US President-elect Donald Trump and President Barack Obama have been growing as the president has become more outspoken about a vitriol-filled election. Comments from Trump on Wednesday brought those differences of opinion to light.
Trump accused Obama of attempting to derail the US transition of power with "inflammatory" remarks that spurred the president to pick up the phone and resolve it before risking it becoming a very public spat.
Trump tweeted Wednesday: "Doing my best to disregard the many inflammatory President O statements and roadblocks. Thought it was going to be a smooth transition - NOT!"
The president-elect appeared to be irked by Obama's recent remarks that he would have defeated the Republican candidate in this year's election, were he not constitutionally barred from running for a third term.
Trump also vociferously took issue with the US' decision last week to allow a UN Security Council resolution condemning Israel's settlement program to pass.
We cannot continue to let Israel be treated with such total disdain and disrespect," Trump tweeted. "They used to have a great friend in the U.S., but ... not anymore. The beginning of the end was the horrible Iran deal, and now this (U.N.)! Stay strong Israel, January 20th is fast approaching!"
Earlier, the outgoing Secretary of State John Kerry had criticized Israel for its settlement-building and accused Prime Minister Benjamin Netanyahu's regime of jeopardizing a two-state solution with Palestine.
Obama's statements that the US would take steps to counter Russian hacking are also at odds with hints Trump has made on his potential future ties with Moscow. Contrary to the assessment of the US intelligence agencies, Trump had said he did not believe Russia was behind the hacking of the US Democratic Party.
Tensions cool
However, Trump later distanced himself from his statements, saying the transition process was going "very, very smoothly" and that he and Obama had what he described as "a very nice conversation... appreciated that he called."
Speaking outside of his Mar-a-Lago estate in Florida, Trump said: "I actually thought we covered a lot of territory. Our staffs have been getting along very well and I'm getting along very well with him other than a couple of statements that I responded to."
When asked about Obama's comments, the real estate mogul-turned-commander-in-chief-in-waiting said they both laughed about it and that "nobody is ever going to know because we are never going to be going against each other."
White House spokesman Eric Schultz described the call as "positive and focused on continuing a smooth and effective transition," adding that the two men planned to remain in touch over the coming weeks.
After exchanging multiple insults during this year's heated presidential campaign, Obama and Trump have sought to put political differences aside in favor of a united public front before Trump takes office on January 20.
In a landmark meeting in the Oval Office a few days after Trump's election victory over Democrat Hilary Clinton, Obama congratulated Trump on a historic electoral win and expressed that millions of Republican voters would suffer should the incoming president overturn Obama's health care law.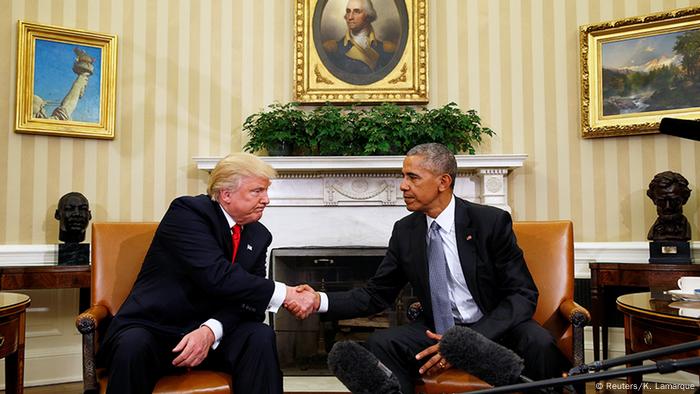 Obama and Trump pledged to oversee a smooth transition as the president-elect prepares to move into the White House
Who's to thank for the economy
Both men have also taken credit for improving US economic indicators. While Trump has long berated the US economy under Obama, he sought kudos late on Tuesday for a number of economic developments, though economists have said the improvements are part of a continuing trend that started before Trump won the election. More than 2 million jobs have been added to the US job market in the last 12 months alone, a sign of positive economic growth pre-dating Trump's election triumph.
"The U.S. Consumer Confidence Index for December surged nearly four points to 113.7, THE HIGHEST LEVEL IN MORE THAN 15 YEARS! Thanks Donald," Trump tweeted.
Trump also heralded news that US mobile carrier Sprint was moving 5,000 jobs "back" to the US "because of me."
It remains unclear whether Trump was referencing a commitment Sprint owner and Japanese tech billionaire Masayoshi Son reportedly made with the president-elect earlier this month to create 50,000 jobs in the US.
Sprint's Chief Executive, Marcelo Claure, has said he and the company look forward to working with Trump.
dm/sms (AP, AFP, Reuters)