New South Korean President Moon Jae-in took the oath of office in a simple ceremony in the capital Seoul on Wednesday, hours after his term began.
Moon, head of the liberal Democratic Party, won a decisive victory in Tuesday's election. He won 41.1 percent of the vote, well ahead of conservative Hong Joon-Pyo's 24 percent and centrist Ahn Cheol-Soo's 21.4 percent. His appointment filled a power vacuum left his predecessor Park Geun-hye's dismissal in March over a corruption scandal.
Moon said he was prepared to visit North Korea and would negotiate with China and the US over the controversial THAAD anti-missile defense system soon after he was sworn in.
"If needed I will fly to Washington immediately," said Moon - who backs engagement with North Korea. "I will also go to Beijing and Tokyo and even Pyongyang in the right circumstances."
Chinese congratulations amid tension
Chinese President Xi Jinping congratulated Moon Jae-in.
"I always attach great importance to South Korea and China-ROK (Republic of Korea) relations," Xi told Moon, according to China's official Xinhua news agency.
"China is willing to work with South Korea to maintain the hard-earned outcome of China-ROK relations.
"On the basis of mutual understanding and mutual respect, China will consolidate political mutual trust, properly handle differences, strengthen coordination and cooperation, and promote healthy and stable development of bilateral relations.
"I would like to work with you to make the development of China-ROK relations benefit the two countries and the two peoples."
Seoul's deployment of the US THAAD missile system had led to relations between Beijing and Seoul dropping to their lowest point since they established diplomatic relations in 1992.
The system ostensibly was meant to protect against North Korean missiles, but Beijing said its powerful imaging impinged on Chinese territory.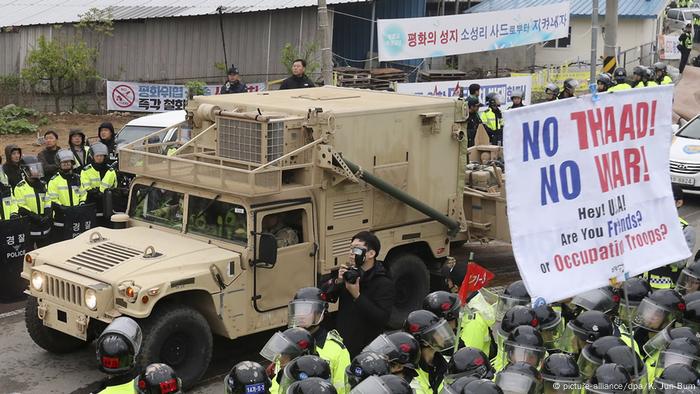 The US THAAD missile defense system has led to a rift between South Korea and China
Japan to mend ties
Japanese Prime Minister Shinzo Abe said late Tuesday he would seek to build ties with Moon, after relations between the two relations soured over the memory of Japan's so-called "comfort women."
"Japan and South Korea face common challenges in East Asia, including the issue of North Korea. I believe our cooperation can further contribute to the peace and prosperity in the region," Abe said in a statement.
"South Korea is the most important neighbor with which Japan shares strategic interests. I look forward to working with incoming President Moon Jae In from now on."
Further appointments
Moon was expected to later announce his nominee for prime minister, which would need the approval of lawmakers, and also his presidential chief of staff.
Moon is a former pro-democracy activist and special forces soldier. He was once jailed for leading student protests and was later chief of staff to president Roh Moo-Hyun, who committed suicide in 2009 following allegations of graft.
Moon advocated for dialogue and reconciliation with the North during campaigning and was ambivalent about the missile system.