Saturday night in Berlin. The subway is packed and, amid the laughter and clinking of beer bottles, polyglot tongues shift between German, English, Italian, Swedish - and above it all, Spanish, the Latin soundtrack of inner-city Berlin these days.
Young Southern Europeans are colonizing Berlin in such numbers that a so-called new migration is underway. They come from the Basque country or Barcelona, Madrid or Granada, and are joined by Portuguese, Italian and Greek comrades who are also sick of paying off trillions in government debt - or have few job prospects. Youth unemployment in Spain is now at 40 percent.
But these economic refugees of sort are a second wave. Starved of underground culture in their buttoned-down Catholic homelands, nearly every Spanish person you met in Berlin a couple of years ago was a musician or artist come to find their cultural El Dorado in the Babylon on the Spree.
When I first moved to Berlin and attended German language integration courses, more than half the class would communicate in a Romantic hybrid Spanish/Italian/Portuguese during the breaks. Many expressed antipathy for their homeland, especially those who'd come from Rome or Madrid, where the cost of living, for one, was unsustainable. It seemed that hundreds were arriving by the week, some by train, most on an Easyjet flight.
The evidence for this incipient immigration is still often anecdotal. Though about 20,000 Spaniards a month are applying for jobs in Germany (90 percent of young Spaniards moving within Europe come to Germany), many who end up in Berlin never register with the embassy.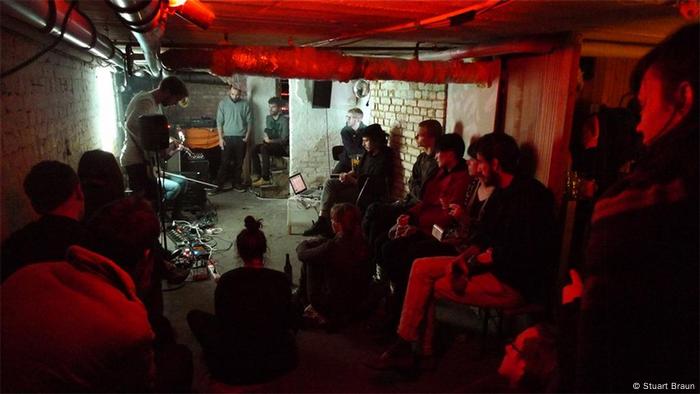 The Spanish migrate underground in Berlin
In limbo
"I would like to go home but I can't," Juan tells me as we drink coffee in a gritty Neukölln café/bar, a few weeks after he lost his month-long job in a call center. I remember Juan nearly two years before, his sense of excitement over being in "happening," cheap, free-wheeling Berlin. But highly-educated Juan is now on the dole. In Spain, he never would have received unemployment benefits.
Before coming to Berlin, Juan lived in Madrid but was without work for a year after finishing his master's degree in cultural management. After completing a half-year internship in a Berlin gallery for 500 euros a month, he's had little opportunity since.
Like a lot of Spanish people across Germany, Juan is essentially an economic refugee in the capital. He misses his friends, the weather, if not "crowded," "expensive," and "stressful" Madrid. But he has nothing to go back to.
"My father told me, 'You are the first generation living worse than mine,'" says Juan, shrugging with a roll-your-own cigarette in hand.
Solidarity
Southern Europeans in exile in Berlin often stick together. Most of Juan's friends are Spanish or Italian; he also lives with an Italian artist who has been in Berlin for seven years. "We can understand each other."
There's now a few Berlin bars known as primarily Spanish hang outs, and all are located in that great underground culture oasis, Kreuzberg. There's the Wowsville record store/bar, run by Alberto (Juan says a lot of his friends have birthday parties there) and Eis36, a nearby bar that just hosted the Latinale Poetry Festival in cooperation with Berlin's Instituto Cervantes. Then there's the hip tapas bar El Raval, which is owned by German-Spanish actor Daniel Brühl (who has a house in the Barcelona neighborhood of the same) and whose wait staff are said to be pooled from Berlin's Spanish diaspora.
Juan says he tried to remain anonymous for time. A lot of Spaniards will tell you they want to avoid all the Spanish people in Berlin. He would look for a place to sit in Kreuzberg's popular Görlitzer Park where people didn't speak Spanish. But "it was impossible," he says with a smile.
Latin underground
Maria works the bar at Sucked Orange, an experimental music space and gallery in Neukölln that is literally underground, in a very low-ceilinged basement. She comes from Granada in southern Spain and has been in Berlin for five years, but feels like a long-timer. "It's hard to integrate and the winter is very hard for Spanish people," she says. "They usually don't survive more than two or three winters."
But Maria isn't going anywhere. "People are depressed in Spain. Everyone is talking about the economic situation. And you couldn't do this," she says of the gallery as discordant music wails in the background. "The police would shut it down."
When the act finishes, conversation buzzes in the busy basement and the lingua franca, inevitably, is Spanish. I talk to Oscar, a DJ and music promoter who came to Berlin from Madrid and founded Sucked Orange one year ago. He says it was hard to communicate, so he learned English first, but would tackle German next.
"This was my dream," says Oscar, showing me how he taped up all the exposed pipes to stop the sound traveling above. He also runs a gallery in the space upstairs, where an Italian painter will hold an exhibition in February. Many things about Berlin are "beautiful," he says, especially the variety of music.
At Sucked Orange there are Norwegians, Swedes, English, Australians, some Germans, an Armenian girl, all mixed in with the Spanish core. Though it's tough for the Spanish - the cold, the language, the fact that they can't often go home even if they want to - at least in Berlin, they don't really feel so foreign.
Author: Stuart Braun
Editor: Kate Bowen