Since his graffiti art began appearing around Bristol, England, in the early 1990s, the question has remained: Who is Banksy? An individual? A man or a woman? Or is there a collective behind the name? Despite ongoing speculation about his identity, we know only one thing about Banksy with certainty: his works. Under the title Who the f*** is Banksy?, the Rosenhang Museum in Weilburg on the Lahn in Hesse, central Germany, is now exhibiting 25 of them from his iconic street art oeuvre.
"The focus will not be on art, but on the figure of Banksy," exhibition co-curator Michael Schulz told DW of a show that celebrates diverse aspects of his work — from record covers to a pop art portrait of Kate Moss for electro producer Dirty Funker to a print of Banksy's iconic stencil artwork Girl with Balloon.
The composer Lutz Fahrenkrog-Petersen developed background music for an "art cage" at the exhibition, including some from a band that Banksy was allegedly a member of in his hometown of Bristol.
"It's irrelevant whether Banksy is a group or a woman. He's a phenomenon. You have to leave it at that," added Schulz in reference to an artist who generally refuses to exhibit his works in museums because he doesn't believe people should have to pay to see his art.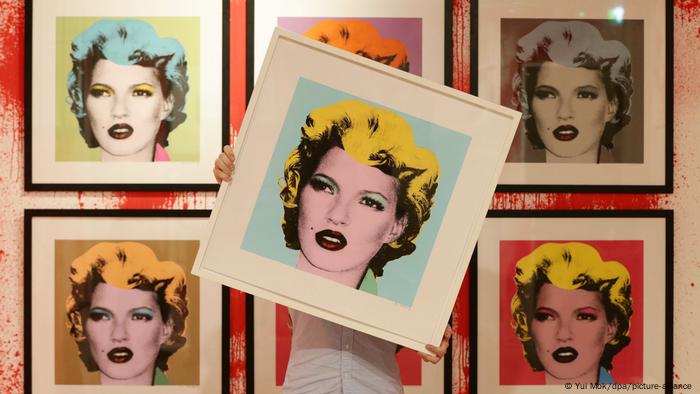 Banksy's Andy Warhol-inspired portrait of Kate Moss from 2005 is on show at the Rosenhang Museum
Internal contradictions?
Banksy might oppose the commodification of his art that addresses the political issues of our time — from refugee rights to Black Lives Matter and the climate crisis — but he is also a victim of his own success. His popularity has created "an eerie commercialism that Banksy rejects deep down," said Schultz.
The difficult question of who Banksy is must include the discrepancy between his critique of capitalism and the millions of dollars his works generate. The street artist himself contributed to the hype, including his decision to maintain a secret identity.
In 2010, as director of the Exit Through the Gift Shop Bansky biopic, he added a chapter to his own iconography. Some might say that Banksy knows how to market himself, and therefore add value to artworks like Devolved Parliament, his painting that sold for nearly $12 million (€10.9 million) in October 2019. His Girl with Balloon, which shredded itself during an auction, also increased in value after the action despite it being a criticism of the art market.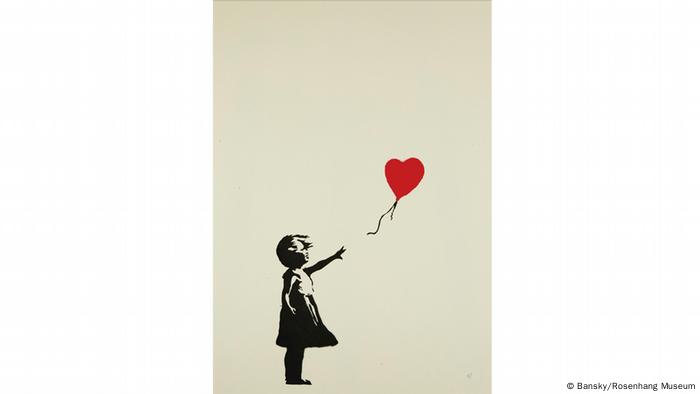 A print of "A Girl with Balloon," arguably Banksy's defining motif, is also on show
Banksy as benefactor
The curator does not see any hypocrisy in this. "What does he do with his money?" asks Michael Schulz with a view to the Louise Michel, the Banksy-funded rescue sea vessel that picks up stranded refugees in the Mediterranean as part of the German rescue organization Sea-Watch. In a reworking of his Girl with Balloon, the artist has painted a girl wearing a life jacket and holding up a pink heart-shaped floating device on the boat (see top image).
In July, Banksy auctioned off an art triptych and announced that the proceeds of €2.3 million ($2.8 million) would be used to build a stroke center in a Palestinian hospital in Bethlehem and to finance children rehabilitation efforts.
The triptych had previously hung in the Bethlehem Hotel Walled Off, which mockingly advertises its view of the embattled West Bank and was co-founded by Banksy. Last Christmas, Banksy created a nativity scene on the shot-up barrier wall next door.
Banksy has also reacted to the coronavirus pandemic with a stencil of rats in the London Underground that promoted mask wearing. And in May he left a work of art in a hospital in Southampton as a thank you to the nursing staff. The painting is to be auctioned off for a good cause in the Northern Hemisphere's fall months.
No to copyright, yes to trademark
"Copyright is for losers" was the stenciled motto the street artist was long known for. But in 2014, he decided to register his legendary street art work Flower Thrower, created in the West Bank in 2005, as a EU trademark. In 2019, a British company that sold postcards with the motif successfully appealed against the artist's trademark rights.
The EU's intellectual property office recently upheld the decision by stating that Banksy was keeping his identity secret and had repeatedly spoken out against copyright in the past.
"He certainly hasn't changed his mind," said Michael Schulz. "Banksy simply wanted to avoid anyone making money with his work." It also seems certain that he will continue to keep his identity secret, trademark or not.
Banksy feels that his art should ultimately belong to everyone. But when asking Who the f*** is Banksy?, it seems his identity will always remain his personal property.
Who the f*** is Banksy? runs September 26 through November 15, 2020, at the Rosenhang Museum in Hesse, Germany.
This article was originally written in German and has been adapted into English by Stuart Braun