The Energy Transitions Commission, a think tank grouping — controversially — energy giants, banks and innovators, said the UN's 2050 aim to decarbonize the world and create a "net-zero" greenhouse-gas economy was a "mission possible."
To reach the target, annual extra investments costing between $1 trillion and $2 trillion a year (€842 billion to €1.68 billion), are needed, the ETC estimated, adding that such spending represents 1% to 1.5% of the global gross domestic product (GDP).
The ETC study's release on Wednesday coincided with EU Commission President Ursula von der Leyen telling the European Parliament that the bloc's 2030 decarbonization target should increase from the current 40% to 55%.
"Our economy and industry can manage this, and they want it, too," she said.
Read more: 'This is the moment for the EU to lead the way,' says EU chief Ursula von der Leyen
In its study, the London-based ETC presented a 10-point plan calling for speeding up the use of "proven zero-carbon" technology, such a wind and solar power, investments in electric vehicles, and implementing policies to promote investment in transiting from carbon-intense to new zero-carbon alternative — and to do it all by 2030.
"Otherwise it will be too late," said ETC co-chair, Adair Turner. "Action in the next decade is crucial."
Critical, "next-wave" technologies identified by the study included hydrogen, sustainable fuels, carbon capture as well as the use of public funds to develop commercial-scale pilot schemes, and "light-duty vehicle fleets" and charging networks.
Energy storage and sustainable biogas technologies were also crucial.
Read more: 'We are not locked into fossil fuels in Africa'
China zero-carbon potential
In its blueprint, said the ETC, would by 2050 enable "all developed economies" to reach net-zero emissions of greenhouse gas emission, such as carbon dioxide and methane, long blamed for catastrophic climate warming.
Already, average surface temperatures have risen 1 degree Celsius since the 19th century — nudging a cap of "well below" 2 degrees Celsius (3.6 Fahrenheit) specified in the UN's landmark 2015 Paris climate deal.
China, in particular, had the resources and technology leadership to become a "rich developed zero-carbon economy" by 2050, forecast the ETC, which integrated previous findings, including the "hard to abate" cement sector, into its latest study.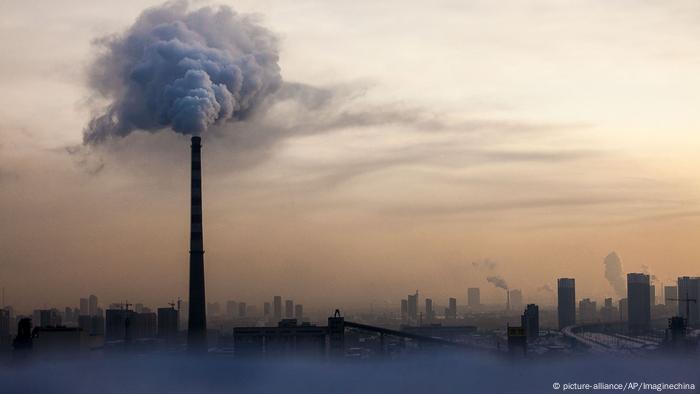 China currently tops the list of total global carbon-dioxide emissions
On global "clean" electricity supply, the ETC study envisages a four-to-five fold boom to reach 90,000-115,000 terawatt hours by 2050.
That would require a five-to-six fold surge in the annual pace of wind and solar energy capture, compared to the increase in 2019.
Read more: All 20 biodiversity targets missed as pollution, climate change rage on: UN report
Addressing the European Parliament on Wednesday, von der Leyen conceded that a tougher EU greenhouse emissions reduction target would be "too much for some and not enough for others."
But it would help the 27-nation bloc achieve climate neutrality by 2050, she insisted. Already, the EU says emissions sank 23% between 1990 and 2018.
Climate lawsuits against Spain, France
On Tuesday, three environmental groups, Greenpeace included, said they had launched a lawsuit against Spain's government, accusing it of taking insufficient action.
In December 2018, Greenpeace and Oxfam amongst others launched a similar lawsuit against the French state.
Environmentalists say the European Union's declared ambition to become carbon neutral by 2050 under its "Green Deal" label has so far been too slow.
ipj/sms (Reuters, AFP, AP)