The "Shield and Sword" festival (or "SS Festival" for short) opened in the small eastern German town of Ostritz on Friday April 20, Adolf Hitler's birthday.
"This is certainly no coincidence," said local Michael Schlitt, head of the town's International Meeting Place of St. Marinenthal (IBZ), which is organizing its own event to counter the far-right music scene – the Ostritz Peace Festival.
Read more: Are Germany's anti-racism initiatives achieving enough?
The small town of only 2,300 residents right on the border with Poland braced itself for the arrival of about 1,000 right-wing and neo-Nazi sympathizers from all over Europe this weekend. The schedule for the SS-Festival includes rock bands known for their hateful and violent lyrics, a tattooing competition and boxing.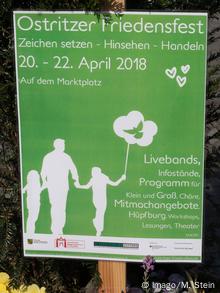 Schlitt stressed the importance of remaining vigilant in the face of extremism to the local Wochen Kurier: "Already once in Germany, in the 1920s and 30s, the influence of National Socialists and far-right extremists was underestimated. No one tried to put an end to their racist and anti-democratic dealings until it was too late."
Alongside the IBZ, local churches, community organizations, music groups, and foundations are participating in the Ostritz Peace Festival over the weekend.
Saxony's Minister President Michael Kretschmer took the time to open the Peace Festival with a message for the town's neo-Nazi visitors: "We don't want you here!"
The counter-festival, he insisted, would show the world's media what the state of Saxony was truly about.
Read more: German government reveals scope of real estate linked to neo-Nazis
'No Nazi Town'
Schlitt also wanted to make it clear that this was a sign from the people of Ostritz who did not want their community exploited, and slammed the right-wing Alternative for Germany (AfD) for suggesting that they were left-wing activists being bussed in from out of town.
"Contrary to the claim by representatives of the AfD that the Peace Festival was being organized outside of Ostritz, we townspeople want to make a decisive sign against the SS-Festival, and we're pleased that so many people want to participate."
Schlitt also welcomed a counter-demonstration planned by the Left party, saying he welcomed "all non-violent engagement against far-right extremism."
"Ostritz is no Nazi town."
Why Ostritz?
But town officials still want to be prepared for anything — on top of a heavy police presence, the Ostritz town council has been offering residents special insurance for property damage since mid-April.
As for why the neo-Nazis have chosen Ostritz, it seems to be a matter of economics rather than symbolism. Hotel owner Hans-Peter Fischer was simply the most willing to rent space to them.
Complaining that business has been bad since intense flooding in the area in 2010, Fischer even admitted that he was once a member of Germany's extreme right National Party (NPD). Although he does belong to the group anymore, he told the local daily Sächsische Zeitung that he was forced to rent space out to any and all paying customers.
The SS-Festival's organizers argued that they are staging a political event, granting it legal protection under the German constitution. However, a court on Friday confirmed that alcohol would be banned from the event, while visitors will also be prohibited from bringing bottles, flag staffs and certain breeds of dog into the festival area.
Local police insisted they would ensure that the ban be strictly upheld.