Burghard B.'s dress and facial hair - which recall the traditional representations of Merlin, the mythical pre-Christian wizard he once claimed was his uncle - doesn't immediately suggest he might be plotting terrorist attacks.
But the self-styled neo-pagan, who also goes by his druid name Burgos von Buchonia, spent Thursday in a police cell being held on suspicion of coordinating a far-right terror network from his home in Schwetzingen in the southern German state of Baden-Württemberg.
The 62-year-old is one of six suspects detained in a series of police raids on 12 apartments across Germany on Wednesday morning. The state prosecutor's brief statement said the group was thought to have been planning armed attacks on police officers, asylum seekers, and Jewish people since spring last year. Citing anonymous security sources, several media outlets reported that a stockpile of guns and ammunition had been found during the raids, though prosecutors underlined that they had no evidence that a specific attack was being planned.
Neo-Druidism is a pagan spiritual group that is supposed to worship nature and promote respect for all living creatures, but a glance at Burghard B's Facebook page suggests that in his interpretation of ancient lore, this does not extend to Jews, Muslims, refugees, and "filthy leftist people without a functioning brain."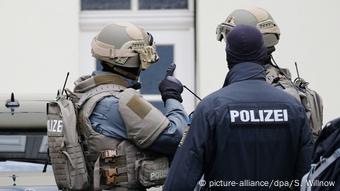 German police raided 12 properties on Wednesday
"When will all citizens have realized that the 12 stars of Israel on the EU flag mean their destruction?" is a typical post, dated August 10, 2015. Another is a picture posted a year later with the slogan: "An anti-Semite is someone who won't let their thinking be banned."
His Facebook profile picture, meanwhile, teased the security forces, declaring: "CAREFUL: According to the 'FRG [Federal Republic of Germany] authorities' I'm an ENDANGERER." This was uploaded in April last year, around the time the state prosecutors believe he was hatching his violent plans.
Wizard, armed and dangerous
Other social media declarations (on the Russian social media site VK as well as Facebook) show that Burghard does not recognize the authority of the German state - much like the "Reichsbürger" ("Reich citizens"), a conspiracy theorist movement that believes the Federal Republic is not legitimate.
And yet, oddly, Burghard is no stranger to media coverage. The Bavarian public broadcaster "Bayerischer Rundfunk" produced a TV news feature about him in 2008, in which he claimed he was born on a "terribly cold winter night" 2,500 years ago, and that since his mother died in childbirth, it was left to his uncle Merlin - "that's right, the great wizard Merlin" - to bring him up.
It seems that Burghard only adopted his far-right ideology later. In 2012, he was expelled from a "stone circle association" that he himself had chaired in the western town of Brühl for celebrating the burning of a mosque and denying the right of "the three major religions" to practice in central Europe ("Desert religions belong in the desert," he was quoted as saying in a press release).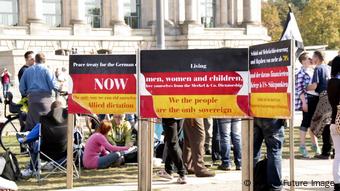 The so-called Reich citizens don't recognize the German state
Then in 2013, Burghard showed up on the radar of the left-wing anti-fascist media outlet "Indymedia," which reported that he went to a Blockupy demo in Frankfurt, took pictures of activists and posted them on Facebook. He himself was also pictured at a PEGIDA demo in the same city in January, 2015.
Nazi-pagan overlaps
Marius Hellwig, a consultant at the Amadeu Antonio Foundation (AAS), which monitors far-right extremism, admitted he was surprised at the apparently violent turn that Burghard's career has now taken. "In retrospect, you could see from his Facebook and VK pages that this druid would become radicalized," he told DW. "But you have to say that this scene had not been taken seriously before, and no one expected that an actual potential threat would emerge from it. But this has made plain that violent members of the far-right scene are not just a few skinheads and neo-Nazis, and that the scene is much wider and its ideology is deeply anchored in a lot of people."
Hellwig says there is a marginal minority of pagans in Germany who hold neo-Nazi views, but, like the Reichsbürger, there is no central organization or formal group, and it is not concentrated in any particular region. "It's a totally disparate scene," he said. "There are neo-pagan ideas, there is a sort of Germanic cult, and there are people who say the Aryans and the Russians have been related by blood for thousands of years, and that they were divided by Western thought and by Jews, and that this unity needs to be re-established."
"There is a very large esoteric scene in Germany, and that isn't necessarily far-right of course - but there are a lot of people who take over other people's opinions uncritically," Hellwig added. "If someone shares someone else's views on environmental protection, but then suddenly tells them that Germany is an occupied country and Jews secretly run the world, there do seem to be people who lack the critical consciousness to say, 'No, I don't agree.'"