Some officials had tears in their eyes as NATO Secretary-General Jens Stoltenberg delivered an emotional goodbye Friday to the rundown complex that has been the alliance's headquarters since French President Charles de Gaulle kicked it out of Paris after downgrading French participation in 1966.
Stoltenberg's speech closing out the final ministerial in the "old building" had been carefully crafted to evoke appreciation for the history that had taken place in the Belgian military barracks which were envisioned as a temporary holding place, but ended up as the alliance's home for five decades.
Read more: NATO in a nutshell
During that time, membership almost doubled from 15 to 29 allies and many world events were reflected in "Room 1", the council chamber. "If they could speak, these walls would have many tales to tell," Stoltenberg said, choosing some of those stories to share with the 29 foreign ministers assembled for the last time around the table.
"After the Berlin Wall came down, Chancellor Helmut Kohl drove from Bonn to address the ambassadors here to reassure them that the reunification of his country would mean not a German Europe, but a European Germany," he said. "There was the meeting in 1994," he added, "when Secretary-General Manfred Wörner, sick from cancer and attached to a hospital drip, chaired the Council in order to oversee the decision to use force to help protect UN peacekeepers and expand the no-fly zone in the former Yugoslavia."
Stoltenberg also noted that the only time NATO's founding principle of mutual defense, Article 5, had ever been declared was in this room after September 11, 2001 — a legacy the alliance still lives with every day in its ongoing military engagement in Afghanistan.
Pounding a gavel donated by Iceland in 1963 that he acknowledged had been misplaced for decades until it was discovered during recent packing, a visibly moved Stoltenberg closed by saying that the move to NATO's massive new glass-and-steel headquarters signals that it continues to evolve while its "determination to preserve peace and security" remains steadfast.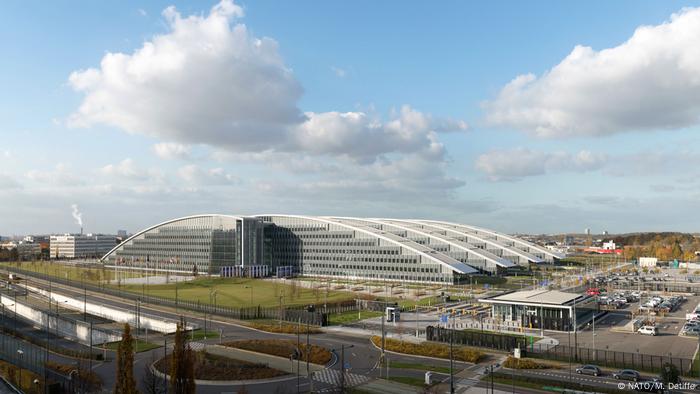 Half of staff are installed in NATO's palatial new headquarters, with the rest to come before the alliance's summit in July
Glossy and glam
The alliance now has an awe-inspiring exterior that reflects how it sees itself operationally after deep structural reforms: sleek, efficient and fit for purpose. The 2.7-million square foot (250,000 square meter) building, the size of 10 US football fields, has taken over seven years and more than $2 billion (€1.6 billion) to complete, and is shaped to look like interlocking fingers to symbolize the unity of allies.
Last year's meeting and dedication ceremony with NATO leaders at the new location was little more than a photo op, since the real work of the move was yet to come. The final phase of the transition officially started in March and will be completed by the July 11 summit.
Two-track approach
As of now, about half the 4,200 people working at NATO have moved, with the May Day holiday being used to get Stoltenberg's and other private offices installed on the new side. That still leaves plenty to do in the next two months.
"We're in a period called 'dual operations,' which is complicated in that we have to be running two headquarters at the same time," explained Acting Deputy Spokesman Dylan White, finishing the packing of his space in the press office. "So we have to be running basically the full set of services for 2,000 people on one side of the street and the full service of 2,000 people on this side of the street," with all the human resource and logistical challenges that entails.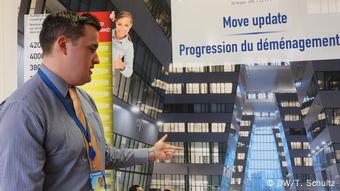 White illustrates how press operations will work in the new headquarters, now that private offices have been moved
Leaving behind the once-prevalent sentiment that partner nations including Finland, Sweden, Georgia and Ukraine should have close physical proximity to allies, they have not been granted space in the new building and are instead moving into the premises vacated by NATO's communications agency.
The Russian mission —forcibly downsized in recent weeksover allegations of responsibility in the poisoning of former spy Sergei Skripal and his daughter — will be there too. Diplomats from these missions will be forced to take the shuttle dubbed the "Magic Carpet" to attend meetings in the main building.
Grumbling: Systems and stomachs
Despite its massive aesthetical upgrade, the new building isn't getting uniformly high marks for functionality. The long transition period apparently wasn't enough to pre-plan for sufficient information technology capabilities. One IT expert said privately that if the summit were held today, NATO would have to choose between its own communications operability and that of journalists covering the event.
Another big complaint: mealtimes. The cafeteria, where prices have been hiked, is said by employees to be far too small, with offices having to eat in shifts. The addition of what's being billed as "Belgium's biggest Starbucks" and a sandwich shop may take off some of the pressure, but it hasn't stifled the grousing so far.
White, author of some of the most whimsical social-media posts to emerge from NATO HQ, is a voice of optimism that wrinkles both big and small will be ironed out soon. He chuckled when relaying how employees had been informed that the scale of the new building means they'll likely be walking more than three miles in the course of a normal day. "Getting ready for that," he said, adding: "I'm getting some comfortable shoes."