Survivors and dignitaries honored the 74,000 victims of the atomic bomb dropped on Nagasaki at the 73rd anniversary ceremony on Thursday. Around 5,800 people gathered to observe a minute's silence at 11:02 local time, the exact moment when US bombers dropped the "Fat Man" nuclear device on the Japanese port city in 1945.
The attack came three days after a nuclear strike on Hiroshima that killed 140,000. Less than a week after Nagasaki, Japan announced itssurrender, which officially ended World War II.
Speaking at the memorial service, UN General Secretary Antonio Guterres warned that "fears of nuclear war are still with us" decades after the Nagasaki bombing.
"States in possession of nuclear weapons are spending vast sums to modernize their arsenals," he said. "More than $1.7 trillion (€1.5 trillion) was spent in 2017 on arms and armies — the highest level since the end of the Cold War."
Addressing the attendees at the Nagasaki peace park, Guterres also said that disarmament efforts "have slowed and even come to a halt," adding that many countries "demonstrated their frustration by adopting the Treaty on the Prohibition of Nuclear Weapons last year."
"Let us all commit to making Nagasaki the last place on earth to suffer nuclear devastation," he said.
Read more: How the Japanese view Obama's Hiroshima visit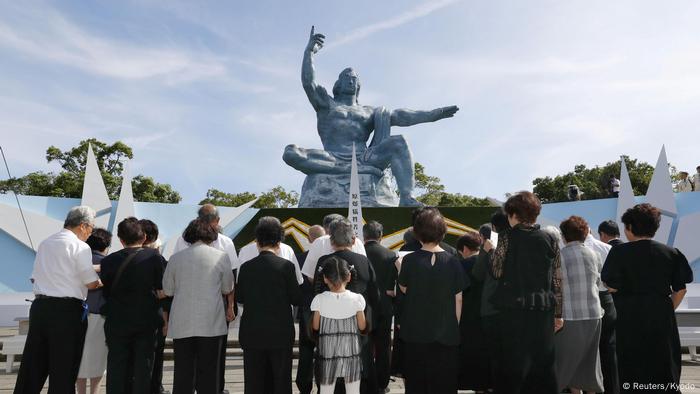 Nagasaki Peace Park features a 10-meter (33-feet) Peace Statue
Tokyo's balancing act
Japan is not a signatory of the treaty, despite being the only country where nuclear weapons were used during wartime. Modern-day Japan is protected by the US nuclear umbrella, meaning that the US is obligated to respond on a nuclear strike against Japan. This puts Tokyo in a delicate position on the issue of nuclear disarmament.
Nagasaki Mayor Tomihisa Taue urged the Japanese government to sign the treaty and "fulfill its moral obligation to lead the world towards denuclearization."
Japanese Prime Minister Shinzo Abe, who also spoke at the ceremony, said Tokyo was seeking to close the gaps between nuclear and non-nuclear states to eventually achieve a nuclear-free world.
Read more: US veterans wary of Obama's visit to Hiroshima
The bombings in Hiroshima and Nagasaki killed not only Japanese, but also at least 22,000 forcefully conscripted Korean laborers, 12 captured US soldiers and seven Dutch POWs.
dj/rt (AP, dpa)
Every evening at 1830 UTC, DW's editors send out a selection of the day's hard news and quality feature journalism. You can sign up to receive it directly here.