A Frankfurt city employee who wanted to wear a full-face veil to work has resigned after the state of Hesse passed a law forbidding civil servants from wearing the burqa.
The city of Frankfurt had told the mother of four - who did not previously wear a burqa to work - that she must choose between the veil and her job.
The woman, who is of Moroccan origin, had previously worn a headscarf but wanted to resume her job after maternity leave with her face completely veiled.
Frankfurt city objected, however, arguing that taxpayers would not accept an official if they could not see their eyes. In the midst of the standoff on Wednesday, Hesse state, of which Frankfurt is capital, announced a ban on burqas in the public service.
"Civil servants may not be veiled, especially those who have contact with citizens," Hesse's Interior Minister Boris Rhein had said Wednesday.
Rhein added that, while a headscarf is acceptable, wearing a burqa could be perceived as "hostile to Western values."
German media and politicians had openly accused the woman of having financial motives for protesting her rights. Reports suggest that the woman's first lawyer demanded a severance payment of 40,000 euros ($55,300) from the city, which her new lawyer reduced to 18,000 euros.
Other states in Germany, notably Lower Saxony, have now also announced that they are considering a similar move to ban the burqa for civil servants.
'Not appropriate'
Fellow Christian Democrat Thomas Kirchner, who is responsible for integration policy at Frankfurt City Council, said he was pleased with the decision by the Hesse state parliament.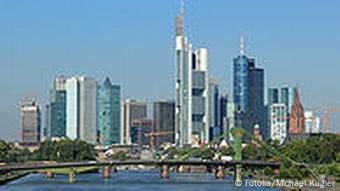 Frankfurt's integration chief said he thought city workers should show their faces
"I don't believe it's appropriate for employees of the city of Frankfurt and the public sector to meet citizens without showing their face," Kirchner told Deutsche Welle.
"The city of Frankfurt has a duty to build up trust with its citizens and I can't see how that's possible when they can't recognize the face of the person opposite them," he added.
City staff department head Markus Frank justified the decision, saying "our employees show their faces. That is a basic requirement for building trust."
Muslim associations in Germany have shown initial positive reactions to the city's and the state's decision, saying that wearing the burqa was not a requirement for female Muslims.
"Fundamentally I believe you should be able to dress how you like," said Ekrem Senol, editor of the Internet portal Migazin, which covers immigration issues in Germany.
"But you've got to take into account other people's feelings. And I think that a full-face veil goes too far."
Author: Joanna Impey, Darren Mara (AP, dpa)
Editor: Andreas Illmer