Authorities in Paris say at least five suspected attackers had been killed following the deadliest attack in the French capital since World War II.
At least 120 have been killed in some six attacks that targeted concertgoers, diners and bar patrons as militants fire assault rifles and detonated explosives in apparently indiscriminate attacks.
The Paris prosecutor's office says five suspected attackers had been "neutralized" in battles with police but that accomplices could still be at large.
The carnage apparently began with an explosion near the Stade de France north of the capital. Witnesses at the stadium, where Germany had been facing off against France in a soccer friendly, reported hearing two explosions.
Following the final whistle, spectators flooded the pitch as news of the attacks spread. Organizers started evacuating the stadium by three doors.
French President Francois Hollande said the French nation would stand firm and united in the face of the unprecedented attacks on civilians.
"This is a terrible ordeal that again assails us," Hollande said. "We know where it comes from, who these criminals are, who these terrorists are."
No group has claimed responsibility.
Gunmen reportedly burst into the Bataclan concert hall in central Paris. The venue had booked the US rock act Eagles of Death Metal, which was to perform to a a sold-out audience. More than 100 concertgoers were slain as the attackers apparently killed people in cold blood. The siege ended after elite police units stormed the venue.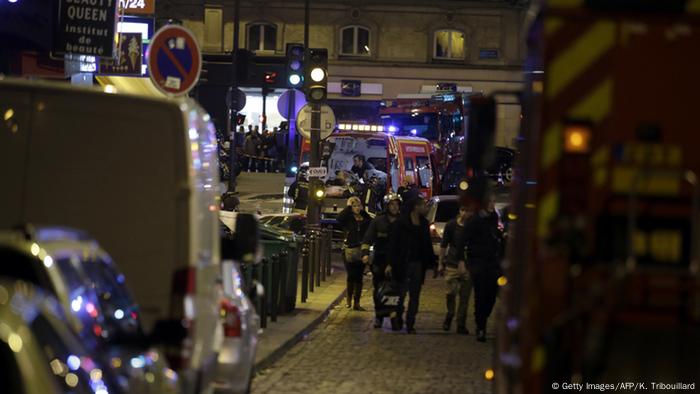 Security moves people along Rue Bichat following a string of attacks in the French capital Paris on November 13, 2015.
Witness Pierre Montfort, who lives close to the restaurant on Rue Bichat, where one of seven attacks took place, said it was surreal and terrifying. "We heard the sound of guns, 30-second bursts. It was endless. We thought it was fireworks," he told the AFP news agency.
Friday morning bomb scare
The German national team was in Paris playing a friendly match against the host country's national team. Earlier Friday, an anonymous caller caused a bomb scare at the hotel the Germans were staying in.
Police using bomb-sniffing dogs were unable to find a threat, and the players were able to return to their hotel.
The match ended with France defeating Germany 2-0.
jar/cmk (AP, Reuters, AFP)