Vienna's most prominent graveyard is the Central Cemetery. Here all of Austria's famous are gathered, among them the crème de la crème of musicians and composers - apart from Mozart. Beethoven, Brahms, Strauss, Schubert, Arnold Schoenberg and, more recently, Falco and Udo Jürgens are buried here. The cemetery, which was opened in 1874, has a network of paths between the 330,000 graves that covers a total of 450 kilometers. Europe's largest cemetery even has its own bus line.
A gem among Vienna's graveyards
St. Marx Cemetery, however, is regarded as an insider tip and as a gem among Vienna's graveyards. It's the sole survivor among five Biedermeier-style communal cemeteries in Vienna. Botanists recommend visiting it in April and May, as that is when Vienna's biggest collection of lilac bushes is in bloom. For romantics any time of the year is an experience - from spring when the white lilac is in bloom, to finding a cool shady place in the throbbing heat of summer and the golden autumnal months leading up to a misty and haunting November.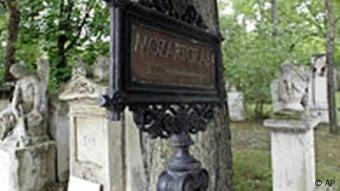 Signpost to Mozart's presumed grave
The charm of this "Biedermeier cemetery" is not undermined by the constant noise from Austria's busiest road, the A23 motorway, which unfortunately leads past it. It's due to the historical graves. 5,600 of the original 8,000 are still preserved. Charmingly and touchingly, touching way they ensure that everyone knows the elevated social standing the deceased once held in life.
The customs of Viennese society
Here you find "the wife of a host in the Leopoldstadt district" or a "civic sewer worker", a "imperial court mouth washer" or " a pleasure and ornamental gardener's son" as well as " a really privy councillor" - who had so many titles to his name that the stonemason in the end just opted for a laconic "etc.etc.etc.". The more dilapidated the tombstone and inscription are, the more haunting the memento mori, the proud referral to the former status and riches of the deceased. After all, you can't take it with you when you die.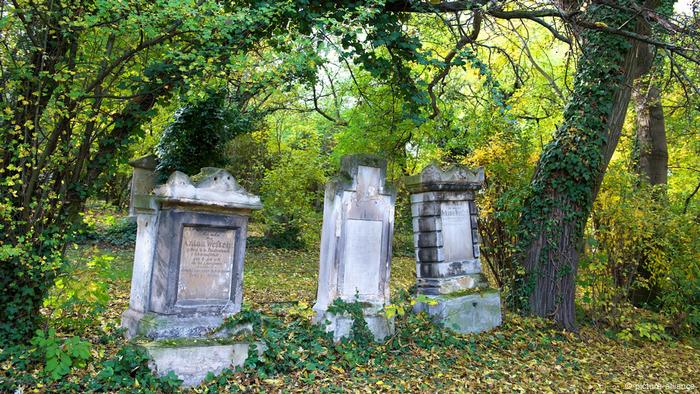 St. Marx Cemetery
The cemetery owes its existence to an enlightened emperor, Joseph II.(1765-1790). For hygienic reasons he forbade burials in cemeteries within the outer walls of Vienna and ordered the creation of five communal graveyards to be placed well outside the city's walls. The cemetery was named after a nearby almshouse and former medieval hospital whose chapel had been consecrated to St Mark. In 90 years after 1784, some 15,000 people were buried here - until the Central Cemetery in 1874 allowed the dead of the city of nearly a million inhabitants to remain within the outer walls.
Mozart's sad demise
One St. Marx burial in particular remains of interest to scientists and fans to this day. It was an austere and meager affair without any pomp - a pitiful funeral procession on December 6th, 1791 - the day after the death, 225 years ago, of Wolfgang Amadeus Mozart, the genius who lived above his means and who met his end at just 35 years of age. He did not, however, die impoverished, as is often claimed. It was more that his money was insufficient to support his lavish lifestyle. Only a few people took part in the procession to the city gates in the rain and snow - among them were thought to be his last pupil Franz Xaver Süssmayr and his eternal rival Antonio Salieri. After that, only the gravedigger knew what happened.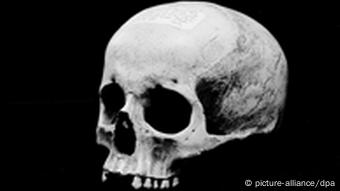 Putative Mozart skull
Mozart ended up in one of the standard unmarked plots, in which four corpses were placed into a narrow shaft in order to save space. The collapsible coffin was emptied there so that it could be used again. Ten years later the same plot would be re-used for further burials. The first opportunity to try to salvage the famous composer's remains from all the accumulated bones came in 1801. This explains how a supposed Mozart skull eventually found its way to Salzburg. To this day, its authenticity has never been confirmed.
The facination remains
It was not until 17 years after Mozart's death that his wife Constanze made a first attempt to locate his grave. As there were no burial crosses or any other markings on the graves, she had to rely on the very precarious recollections of the cemetery staff. As a result the exact location of Mozart's final resting place remains a mystery.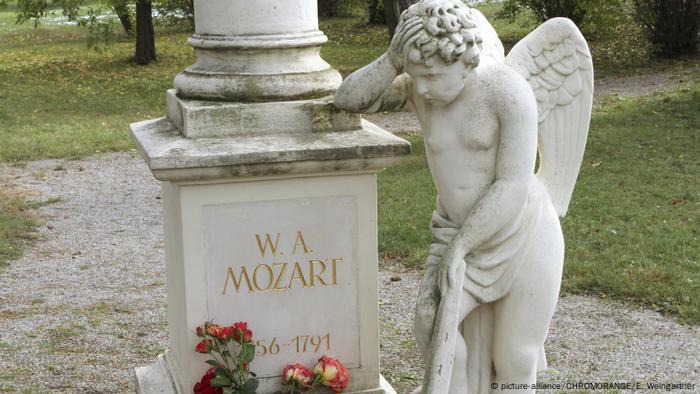 Mozart's final resting place in St. Marx Cemetery
On the contentious spot where it was thought Mozart's grave might be, a memorial was placed - which was then transferred to the Central Cemetery on the 100th anniversary of his death in 1891. Ultimately a resourceful graveyard keeper decorated the leftover empty space with ornaments from other graves and placed a stone slab with Mozart's name on it. Visitors still lay flowers and fan letters and light candles at the base of the truncated column. On the anniversary of Mozart's birth and death official delegations even travel here to lay wreaths.
St. Marx Cemetery is now no longer in use. It's maintained by the city of Vienna as a park and has protected monument status.
is/at/sc (kna)