Until a year ago, Mozambique's most northern province was known for its idyllic beaches and palm trees. But since October last year, unsettling news has emerged out of the region. An unknown group, armed with automatic weapons and machetes, have carried out attacks on police stations, burned cars and houses, and killed people.
Local police have counted 90 deaths and over 60 injuries since October 2017. Uncharacteristically for terror attacks, they have not been followed by a group claiming responsibility, nor by any demands.
The local population initially called the group "Al Shabab," the name used by the Somali terror group. Most of the attackers were rumored to be of Muslim faith. To date, however, no links between the two groups have been established and many observers have ruled out a connection.
Read more: Growing domestic instability or risk of terrorism in Mozambique?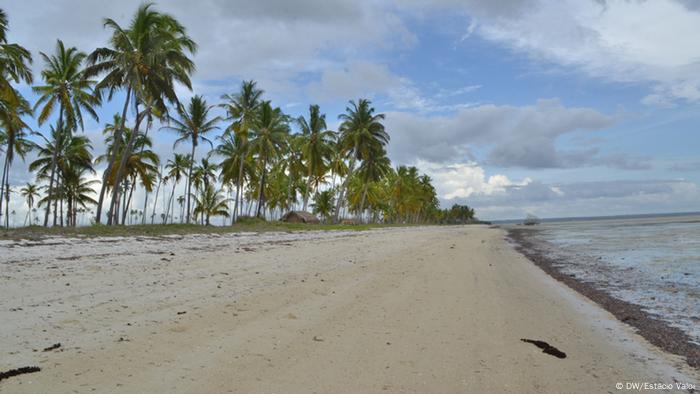 Mozambique's northern province was mainly known for its beaches and serenity
Religious motive unlikely
"I think what we're seeing has more to do with terror and criminality than any political ideology, where attacks would typically be directed towards the state and would have clear demands," said Calton Cadeado. He teaches peace and conflict studies at the Mozambican Institute for International Relations (ISRI).
A religious motive is also unlikely, according to Egidio Vaz, a political analyst at the Mozambican non-governmental organization IREX. He too suspects criminal networks. "This conflict comes at a time when the governments of Tanzania and Mozambique are cracking down on poaching, illegal mining, and illegal fishing," Vaz told DW. "They're also strengthening the borders and trying to better protect flora and fauna."
Until recently, criminal networks were able to go about their illegal trade in gemstones, ivory and drugs without much disturbance. That has changed. The attacks on the police could therefore have been a response to that.
Economic boom through natural gas discovery
The attacks have until now been restricted to Cabo Delgado province and have affected the small towns of Mocimboa da Praia and Palma, as well as the neighboring rural districts of Macomia and Nangade.
Another peculiarity of the attacks is that the international firms Anadarko, Exxon Mobil and ENI, which are preparing to extract natural gas from the vast gas reserves in the Rovuma Delta, have up to now been spared. Cadeado believes that future attacks on the energy firms will also be unlikely. "That would only happen if there is a security gap. At the moment, these are the most highly secured areas of Mozambique," Cadeado told DW.
Read more: Mozambique's coastal cities battle climate change
The presence of the international firms has resulted in an economic upturn in Cabo Delgado. A multi-billion-dollar investment is planned for the production of liquid natural gas (LNG), which will later be shipped to Asia. The economic boom has however had little effect on the local population. Gas exploration specialists have largely come from other regions or abroad, as the highly-skilled personnel are rare in the rural region.
There are no indications that the attacks were carried out in protest of the gas production. The rural population, who are at threat of being driven from their land and resettled, has only held peaceful demonstrations.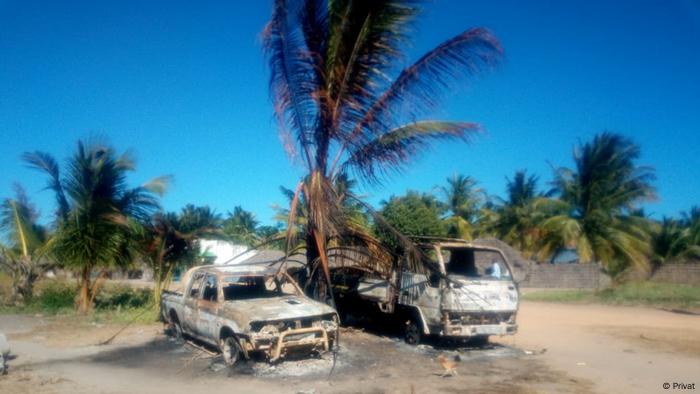 In June, vehicles and houses were burned in Mucojo village, Macomia district
Investigation ongoing
Mozambique's police have arrested over 200 people in connection to the attacks. Due to lack of evidence, some have been released.
Nevertheless, since October 8, 189 people are in Cabo Delgado's courts over their possible links to the attacks. They include nationals from Mozambique, Tanzania, Burundi and the Democratic Republic of Congo. Nearly all of the suspected deny any connections to the attacks, but the Mozambique's public prosecutor's office hopes to shed light on the matter through the court case.
Analyst Egidio Vaz believes that the problem might soon solve itself as Mozambique has a long history of the appearance and disappearance of armed groups. "If we look at Mozambique's history, I wouldn't be surprised if this group will also simply disappear," he said.
Leonel Matias contributed to this report.