Although industrial countries produce the lion's share of greenhouse gases globally, countries of the Global South are the ones facing the brunt of global warming — and they often have the least resources to adapt to changing weather patterns and rising seas.
Mozambique is among such countries. Recurring droughts and floods destroy entire harvests, further threatening already precarious food security. One in four people already suffers from malnutrition, according to the World Food Programme.
Increasingly intense tropical cyclones, torrential rains and rising sea levels threaten cities and villages along the country's coast, where 60 percent of Mozambicans live. Seven of the 11 major cities are located along the seaside.
The impacts of climate change are being felt daily in these coastal cities — which is why their mayors have taken adaption into their own hands as part of a growing movement of mayors who are stepping up their game to fight climate change.
Read more: Politicians think globally, act locally to fight global warming
Banking on nature
In the Quelimane Municipality for example, which lies in the center of Mozambique's coast, mayor Manuel de Araujo has invested in mangroves.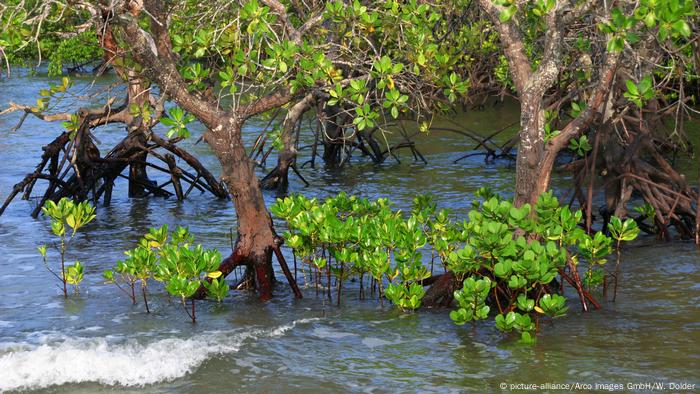 The roots of mangroves protect against erosion and help to purify water
"Sea level rise and erosion are a huge problem in my city as we have less and less land available for agricultural use," de Araujo explained to DW at the Resilient Cities conference in Bonn, Germany.
"The mangroves are our first line of defense against the sea,"
He has traveled to Germany along with other mayors of coastal cities to share their best practices in how to make communities more resilient with limited resources.
One important factor in most adaption projects is to involve the local community, de Araujo points out. This is especially the case in the mangrove project, as citizens usually cut mangroves to use the wood for cooking and to build houses.
By involving local residents and informing them about the role of mangroves for the local ecosystem and economy through radio programs as well through church, women's and youth groups, he hopes they will protect the trees instead.
"In my city, the number-one source of income is fishing," de Araujo said. It's important to understand that by cutting mangroves they are destroying the ecosystems where prawns and fish grow."
"When they see that fisheries increase, there is a big motivation for them to protect mangroves."
Read more: Protecting paradise on a budget
Shoring up homes
Tagir Carimo, mayor of Pemba municipality in the north of the country, agrees that education is one of the most important aspects of making communities more resilient.
In his city's plan to adapt to climate change, a key part of it is informing people and local politicians about the impacts of global warming so they understand which measures need to be implemented.
Otherwise, "people will just build their houses and then rainwater will wash them out," he said.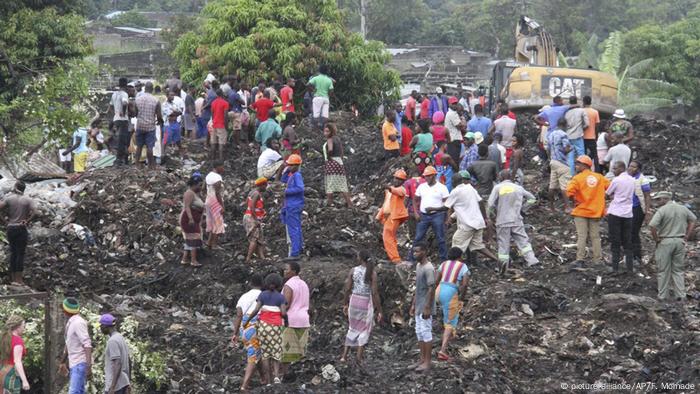 Heavy rains triggered the partial collapse of a garbage heap in Maputo in February 2018, burying more than a dozen people
Together with the Mozambique Costal Cities Adaption Program (which is funded by USAID), the cities of Pemba and Quelimane developed prototypes of resilient homes. They can be built with local materials, but are sturdier than traditional houses which are usually made of mangrove wood, mud and palm leaves.
The resilient homes have raised foundations to withstand floods, reinforced walls and steel roofs to weather cyclones.
So far, funding has only sufficed for 12 pilot houses. But since local carpenters and other workers were invited to participate in the project, the mayors have noticed that elements of the resilient houses are incorporated elsewehere.
People replicate the parts they can afford, he says. "Some people might build their houses on a higher foundation but don't have enough money for the steel roof; others are inspired by the reinforced walls," explained de Araujo.
"It's still better than what they had before."
A positive side effect of this project is that local carpenters learned new skills that created opportunities for them to generate additional income, he added.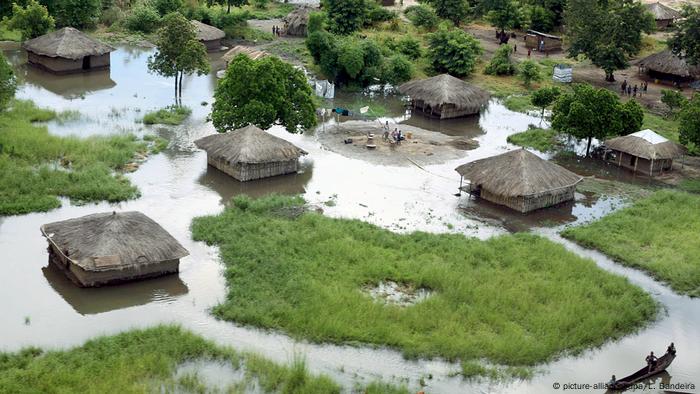 Traditionally, homes in Mozambique are built with mangrove wood, mud and palm leaves
Another aspect of strengthening homes is ensuring that they are not built in the most vulnerable parts of the city, for example in flood areas and seafront zones.
Read more: Extreme weather: 'Africa is most vulnerable'
To that end, Pemba's mayor Carimo has developed a "vulnerability map" which can be used to advise residents on where and how to build their houses.
In reality, the advice isn't always taken up, he admits, because especially poor people who are new to the city move to informal settlements.
Building alliances
Yet, even with the most creative and innovative ideas, there is only so much local politicians can do with limited financial and human resources, the mayors asserted.
Therefore, a vital part of their fight against climate change is also about building alliances with local, national and international networks — and in attracting donors.
Read more: Climate finance: Footing the bill for a global crisis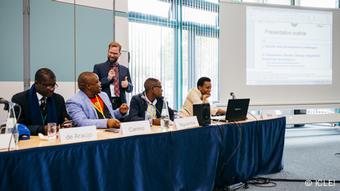 Mayors attended the Resilient Cities Conference 2018 in Bonn to share best-practice examples on how to make coastal communities more resilient
Pemba has an annual budget of $2 million per year to fix roads, pay wages, and so on. "It's not enough to face a challenge like climate change, that's why we are focusing on international networks and finding a twin city with similar problems to connect and learn," said Carimo.
With a huge smile, he added that his town is in the most beautiful part in Mozambique, in case anyone attending the conference would like to invest.
The coastal cities have organized themselves into a compact: the Mozambique National Association of Municipalities (ANAMM), to increase their impact and make their voices heard on a national level.
And the government has begun to listen, said Eduardo Nguenha, secretary general of ANAMM.
"The Paris Climate Agreement was signed by countries — but at the end of the day, it's local governments that design and implement tools, it's very much a bottom-up approach," Nguenha said at the cities conference.
"Now, the national government comes to us so they have something to report back to their international partners," he concluded.