Claudia Neumann, the first German woman to commentate on a men's World Cup game live has been the target of hateful criticism on social media, much of it of a sexist nature. But a poll published on Tuesday confirmed that misogynist outrage belongs to a minority of viewers.
According to German magazine Der Spiegel, a study conducted by German online polling firm Civey showed wide support for the female commentator, with 68.9 percent of Germans saying it was a positive thing that a woman was narrating games at the 2018 World Cup. Only 12 percent responded negatively and 18.7 percent said they were undecided on the matter.
Of the positive responses, 48.5 percent said it was "very positive" to have a female football commentator, and of the 12.4 percent that said it was a negative development, only 5 percent saw it as "very negative."
The positive support for Neumann was registered across all age groups, although the 50-64 age category was the most skeptical, with 10.5 percent saying it was "somewhat negative" and 4.6 percent rating it "very negative."
The difference between male and female positive responses was slim, at 68 and 69.9 percent respectively. But women believed it was "very positive" at a higher percentage than men: 51.6 to 45.6 percent. Negative responses for men stood at 11.5 percent, while 13.2 percent of women rejected female commentators.
Read more: DW reporter sexually harassed during World Cup broadcast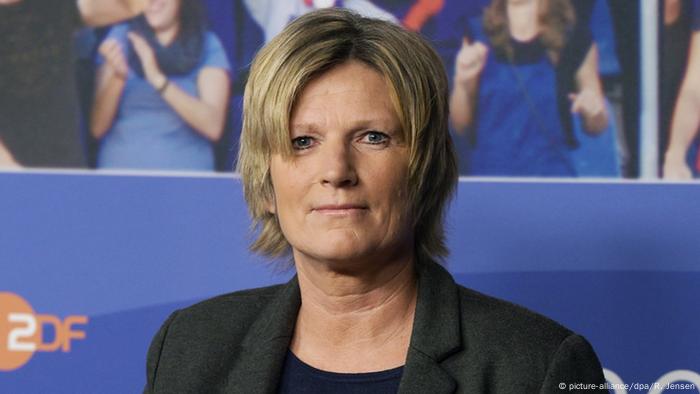 Neumann: a pioneer, and in Russia
Claudia Neumann has worked for the sports department of broadcaster ZDF since 1999. She broke ground by becoming the first female football commentator on German TV when she was tapped to cover the FIFA Women's World Cup in 2011.
She went on to become the first woman to report a men's football game in 2016, during the UEFA Euro tournament in France. The assignment provoked a flood of misogynist hate speech and even threats on social media from sports fans who could not bear the voice of a woman in football.
Read more: Germany's first female Euro commentator faces sexist outrage online
At the start of the World Cup in Russia, Neumann responded to the barrage of internet hate with an air of calm. "No, I do not care about it," the commentator said to German newspaper Bild, when asked about her thoughts on the matter.
Neumann added that the internet hate represented only a "minority that receives a lot of attention," a point of view that appears to be backed up by Civey's poll.
After she was the target of more vitriol for mistaking a Japanese player's team in the Bundesliga during Japan's win against Colombia on June 19, ZDF Sports Director Thomas Fuhrman supported her work.
Fuhrman said that mistakes during a broadcast are common and happen to male commentators as well. He added that critique directed at football narrators was acceptable, but noted that negative criticism of Claudia has always "pushed all boundaries."
Read more: Burger King sorry after offering Whoppers to women impregnated by World Cup players
Fundamentally, Fuhrman concluded, a woman is narrating men's football games at the World Cup and that is bound to unleash the "lowest of the low" from some individuals online.
In a sign of optimism for women commentators in football, German broadcaster ARD, which shares the rights to the World Cup with ZDF, said on Tuesday that it was hoping to also add a female voice to its broadcasts.
Sports Coordinator at ARD Axel Balkausky praised Neumann and said he was confident that his agency could fill the gap of women commentators soon. But Balkausky admitted that it was difficult to find women like Claudia Neumann, who were willing to take on the job. "Not even for big ARD," Balkausky lamented.
Each evening at 1830 UTC, DW's editors send out a selection of the day's hard news and quality feature journalism. You can sign up to receive it directly here.