"Such actions that were carried out against the Syrian armed forces ... this is completely unacceptable - this is a breach of Syrian sovereignty," Russian Deputy Foreign Minister Gennady Gatilov was quoted as saying by state-run RIA Novosti in Geneva.
Gatilov said the US's airstrike would not help efforts to find a political solution to the war, now in its seventh year.
On Thursday, US-led warplanes hit a pro-regime convoy in Syria, saying the targets had ignored warning shots. The aircraft struck the convoy as it headed toward a remote coalition garrison near the border with Jordan, a US defense official said. The Syrian Observatory for Human Rights said the strikes killed eight people "most of them non-Syrian" and destroyed four vehicles.
US: Not increasing role in the Syrian civil war
The United States has been militarily involved in Syria's war since 2014, but has largely avoided engaging directly in the conflict until President Donald Trump's administration launched its first strikes against government forces in April.
On Thursday, US Defense Secretary James Mattis said that despite the strikes the US forces were "not increasing our role in the Syrian civil war, but we will defend our troops."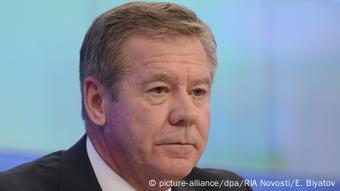 Russian Deputy Foreign Minister Gennady Gatilov.
Without elaborating, a Syrian military source said the airstrike had hit "one of our military points," state TV reported.
"The Syrian Arab Army is fighting terrorism on its territory, and no party has the right to determine the course of its operations," the source reportedly said. "The Syrian Arab Army will ... not be intimidated by the attempts of the so-called coalition to stop it from performing its sacred duties."
The airstrike by the coalition fighting the Islamic State group happened on the same day that IS fighters killed more than 50 people in attacks on two government-held villages elsewhere in the country.
Meanwhile, the United Nations reported that Syria's regime and rebels had agreed to set up expert committees to discuss "constitutional issues" at the latest round of UN-backed peace talks in Geneva.
More than 320,000 people have been killed in Syria since the conflict began following anti-government demonstrations in 2011.
jbh/sms (AFP, Reuters)