"A stab in the back by the accomplices of terrorists," is what Vladimir Putin called Turkey's actions after it shot down a Russian jet flying near the Turkish-Syrian border.
Turkey says it warned the plane ten times in the space of five minutes that it was violating the country's airspace before shooting it down.
The Russian president, Vladimir Putin, appeared on state television to furiously condemn Turkey's version of the attack saying the Russian plane stayed within Syria at all times.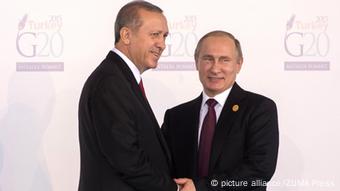 Russian President greets Turkish President Erdogan at the G20 summit
Amateur video shows that the two pilots in the plane ejected themselves before it crashed to the ground in flames on the Syrian side of the border. The Russian Ministry of Defence has said that one of the pilots was killed after being ejected and shot at from the ground. The second pilot was rescued after a 12-hour operation and brought to a Russian military base in Syria.
Russia said a marine was also killed after a helicopter came under fire during a search-and-rescue mission to recover the pilots. Vladimir Putin has said those involved in the mission will get state awards.
The area where the jet was shot down is home to a Turkic ethnic minority who live in Syria and who have close ties to Turkey. Turkmen rebels are currently fighting Moscow's ally, Syrian president Bashar Al-Assad.
Russia has been accused by countries such as the United States of trying to protect the Syrian president against rebels like the Turkmen, rather than focussing its attention on the so-called Islamic State group.
Moscow reaction
Vladimir Putin angrily denounced the attack by Turkey saying it was "obvious" that the pilots "were carrying out a mission against ISIL (IS)" by launching preemptive strikes "against terrorists who could return to Russia."
He warned that the event would have "serious consequences for Russian-Turkish relations."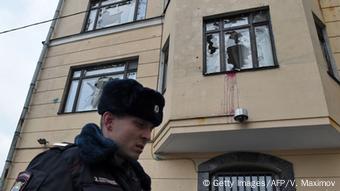 Broken windows on the Turkish embassy in Moscow
This was the first time since the 1950s that a NATO member state had shot down a Russian or Soviet aircraft and, in Russian eyes, the situation appears to have been made worse by Turkey's response to the attack.
President Putin accused Turkey of immediately turning "to their partners from NATO, to discuss this incident, as if we shot down their plane and not they ours."
He also hit out at the country, saying it was hiding behind NATO's protection. Accusing Turkey of directly financing terrorism, President Putin suggested it was using the alliance to shield Islamic State terrorists, saying "Do they want NATO to serve ISIS?"
Consequences
There are many ramifications from this attack which will have consequences beyond Turkey and Syria's borders.
Russia has already said bombers flying missions in Syria will now be accompanied by fighter planes and that it plans to increase its military presence in Syria.
The defence ministry has announced it is sending a warship off the coast of the country and that it will be deploying its advanced, long-range S-400 anti-aircraft system to a military base there. It has already warned that, following the attack, "all potentially dangerous targets will be destroyed."
This could have huge implications for not just Turkey, but other nations operating in the skies above Syria.
A western coalition, including Turkey and the United States, is currently carrying out air strikes in the country. Deploying the S-400 system could give Russia the ability to target any missile or aircraft flying within the system's range. This could mean that any plane flying in the country would only be doing so with the tacit agreement of Russia.
The deployment of more military hardware to Syria has been matched on a diplomatic level by a cooling of relations with Turkey. Russia has said it is stopping military level contacts and the Russian foreign minister, Sergei Lavrov, cancelled a planned meeting in the country on Wednesday.
Although Lavrov said Russia was "not planning to wage a war against Turkey," he said the country "cannot leave what has happened unanswered."
Previously, Mr Lavrov advised Russians against travelling to Turkey, saying the terrorism threat there was no less than in Egypt where a Russian passenger aircraft was downed in a terror attack.
This could have a substantial impact on Turkey's tourism industry as hundreds of thousands of Russians visit the country each year under a visa-free travel programme. Some tour operators have already said they are no longer selling tour packages to the country.
Russia's prime minister Dmitry Medvedev also threatened more economic action saying joint projects between Russia and Turkey could be cancelled.
What next?
The question is, though, where does this put efforts for an international coalition to fight so-called Islamic State?
The French president, Francois Hollande, has met the US president, Barack Obama, and is due to visit Moscow in an attempt to persuade Russia and the United States to set aside their differences and fight Islamic State in a single coalition.
The gap between Russia and western nations to create such a coalition had appeared to have narrowed slightly in the wake of the terror attacks in Paris and on the Russian airliner which was downed in Egypt – both claimed by IS.
That now risks being complicated by the shooting-down of the Russian jet by Turkey, a member of the Western-backed coalition operating in Syria.
Central to all of this, however, remains the key question of the Syrian president Bashar al-Assad.
The West has repeatedly stated that he must play no part in Syria's future and that Russia's targeting of anti-Assad rebels and support for the Syrian government is prolonging the war.
Until, therefore, there is consensus on who exactly an international coalition would be targeting, an alliance between Russia and the West remains difficult.