It's nearly the size of western Europe, but with less than three million people, Mongolia is the most sparsely populated country in the world. The Central Asian country also sits on a virtual treasure trove worth trillions of dollars. Buried beneath its sprawling landmass of rolling plateaus, lush grasslands, and sand swept deserts lies an abundance of minerals.

It's no surprise then that large-scale mining companies from around the world continue flocking to the oft-dubbed "Saudi Arabia of Central Asia," largely setting up shop in the gold, silver and copper-rich South Gobi region.

The mining giants have given a major boost to its economy: in 2014, Mongolia's GDP is slated to spike by 15.3 percent, the highest growth rate in the world. In 2012, minerals comprised 30 percent of the GDP and more than 80 percent of exports, according to the Mongolia Research Hub of the Centre for Social Responsibility in Mining.

Risks to health and environment

But the mining rush has a downside. Like many developing countries rich in natural resources that have seen investors pour in, Mongolia is reaching a familiar turning point - struggling to ensure that the huge profits generated by the mining industry don't end up causing a real income gulf. There are also fears that unchecked economic growth and mining-related infrastructure projects are posing a risk to its rich environment and biodiversity.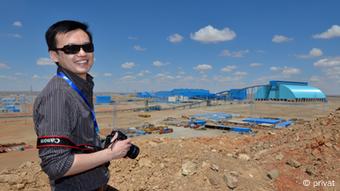 Mongolia's semi-arid South Gobi region is dotted with large-scale mining projects, proof of a veritable gold rush
"Recent mining driven economic growth is causing threats to the environment and livelihood of herders," Enkhtuya Oidov, the Mongolia program director of The Nature Conservancy, told Global Ideas. "Land use of mining is not compatible with the Mongolian culture of cherishing the environment and ecology."

In semi-arid areas like South Gobi, the extreme dust generated from poorly planned dirt roads built for mining operations is compromising the health of local people, as well as their herds of horses, goats, sheep, yaks and camels. The creation of these roads, which cart truckloads of minerals to neighboring China and run through areas where many animals graze, also leads to high degradation of pasturelands.

Furthermore, mining can impact the quantity and quality of surface water and groundwater. It often discharges sediment particles, threatening fish species and the invertebrates that rely on them for food.


Tightening mining laws

Yet, mining in Mongolia can still be compatible with conservation, some experts said. That's as long as companies continuously monitor their environmental impact, and are adaptive in their mining process in case they note changes in species, Saleem Ali, director of the Centre for Social Responsibility in Mining at the University of Queensland in Australia, said.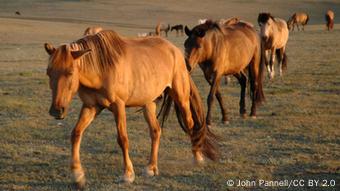 Mining-related infrastructure projects are affecting the health and habitat of animals crucial to Mongolia's nomadic herders
"Often civil society presents mining as a zero sum game where mining and conservation can't co-exist, and I don't think that's the case," Ali said. He's authored "Treasures of the Earth: Need, Greed and a Sustainable Future" and is currently leading research into mining and traditional livelihoods in Mongolia.

In 2009, the Mongolian government passed the "Law of the Prohibition of Mining Operations in the Headwaters of Rivers, Protected Zones of Water Reservoirs and Forested Areas," commonly referred to as "The Law with the Long Name."

The government has already repealed over 200 exploration and exploitation licenses from mining companies operating within 200 meters of forest and water sources, binding them to another legal tenant: they have two years to rehabilitate the areas, under the observance of local government and citizens.

Companies granted licenses must deposit a "rehabilitation bond" -- or 50 percent of the estimated costs to restore an ecological zone – into a designated bank account to be managed by the local government before beginning any mining activity.

Are good intentions enough?

Yet the law has not been fully enforced, Mongolian Byambajav Dalaibuyan from the University of Queensland said. That's due to difficulties in defining the boundaries of the areas it specifies, and a lack of commitment from the Mongolian government, he added.

There's also a catch: the law doesn't apply to "minerals of strategic national importance" – or those deemed to have an impact on Mongolia's national security, regional or national economic or social development, or to produce greater than five percent of Mongolia's GDP. There are currently 15 such mining sites scattered around the country.

"The law has a good intention but it's quite ambiguous," Dalaibuyan, a postdoctoral research fellow who primarily studies community development agreements in South Gobi, said.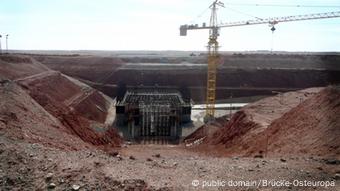 The vast Oyu Tolgoi copper and gold mine is single-handedly credited with transforming Mongolia's economy
In one town he recently visited in the area, 10 kilometers from a mining site, dust gathered outside the windows of homes. "The local people are also worried about a future water shortage," Dalaibuyan said.

Pressure is rising on the Mongolian government from local civil society groups such as the United Movement for Mongolian Rivers and Lakes and media to do more to ensure that mining activity doesn't devastate the environment.

There are signs that their voices are being heard. Since Mongolia's 2012 elections, the government has focused on reforming its legal enforcement capacity, especially at the local level. It's launched and supported a number of policy changes for transparency and decentralization, a challenge with which the former Soviet country is still grappling.

'The cost of doing business'

Some experts point out that mining firms themselves are increasingly sensitive to criticism of their environmental footprint. Some companies are voluntarily taking conservation matters into their own hands, Isabel Cane, program manager at the Centre for Social Responsibility in Mining at the University of Queensland, said.

"Large scale international companies usually have relatively well managed environmental mitigation or protection programs," Cane, who has been conducting research in Mongolia for the past five years, said. They use a range of biochemical treatment technologies that reduce the metal loads going into the waterways. In addition, containment ponds are used to prevent accidental spills from pouring directly into rivers.

Some of these companies also enter long-term cooperation agreements, requiring them to gain approval from local government and host communities before moving forward with mining.

They include Rio Tinto, a mining giant that manages Mongolia's Oyu Tolgoi LLC, the world's largest copper deposit and official site of strategic importance. The Anglo-Australian mining company has come under fire in the past for alleged environmental pollution and human rights abuses involving mining operations in Indonesia and Papua New Guinea.

In Mongolia, Rio Tinto's mining operations are located beneath the Gobi desert, south of Mongolia's capital Ulan Bator. The Oyu Tolgoi mine is expected to produce 30 percent of Mongolia's GDP by the time it reaches full production in 2021, according to the International Monetary Fund.

Oyu Tolgoi recently set up a long-term cooperation agreement with the South Gobi province. The company says it's established an environmental monitoring program, which works with locals while providing them with an alternative source of income.

Measures include monitoring water levels, wild animal herds as well as activities such as seed collection and tree planting, Oyu Tolgoi spokesperson Batmunkh Buyantogtokh said in an email.

Some experts point out that growing awareness about the impact of mining activity on the environment and biodiversity is forcing the industry to rethink its ways.

"Mining companies should consider that there will be a cost of conservation," Saleem Ali said. "But that should be considered the cost of doing business."