UN Human Rights Office on Wednesday reaffirmed its findings that Mexican authorities arbitrarily detained and tortured suspects detained for alleged involvement in the disappearance of 43 students in 2014.
The UN agency said in a statement that it "stands both by the methodology and the findings of its report into allegations of torture and cover-ups in the Ayotzinapa (Rural Teacher's College) case," following criticism from Mexico City.
Read more: Mexico's missing students: More questions than answers
In March, the UN agency said in a report that it had "strong elements of proof" that Mexican authorities subjected at least 34 people detained in connection to the disappearances to arbitrary detention, torture and other human rights violations.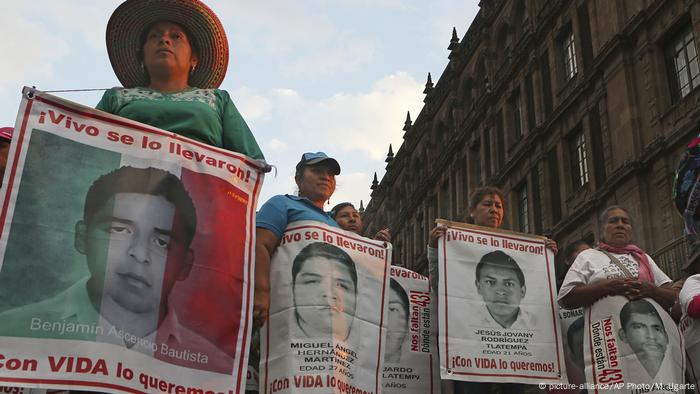 Family members of the victims have protested against the government for failing to protect the students
'Premature'
But earlier this week, the Mexican government called the UN's report "premature," saying that the evidence presented "did not reliably support the commission of such acts."
The government said its investigations will likely wrap up this year "in the interest of arriving at conclusions in the case that address the legitimate demand of family members and Mexican society as a whole."
Read more: Opinion: Ayotzinapa was not in vain
But family members of the victims accused the government on Tuesday of attempting to suppress the investigation by closing it prematurely.
"These men know that their corrupt government is already on its way out and they're afraid that the next government will want to go beyond where they stopped in our case," said Emiliano Navarrete, a father of one of the victims, during an Inter-American Commission on Human Rights heading."
"That's why they want to close each lead acting like they investigated it."
Shocking tragedy
In 2014, 43 students at a teachers college disappeared from the city of Iguala, shocking the country and the globe. Many Mexican citizens have blamed the government of President Enrique Pena Nieto for failing to protect the students.
Mexican officials have argued that local police handed the students over to members of a drug cartel in the state of Guerrero, who then murdered them and disposed of their bodies. But independent experts have cast doubt on the government's narrative, saying officials have tried to hamper the investigation.
The UN, EU and US have urged Mexican authorities to establish culpability for the disappearances and tackle inconsistencies in the official probe.
ls/kms (EFE, dpa)
Every evening at 1830 UTC, DW's editors send out a selection of the day's hard news and quality feature journalism. You can sign up to receive it directly here.