Mexico's attorney general this week launched an investigation into officials who on October 28, 2014 visited the San Juan river, including the Mexico's Criminal Investigation Agency (AIC) Director Tomas Zeron.
The 43 male students from the Ayotzinapa Rural Teachers' College went missing in Iguala, Guerrero State, on September 26, 2014.
The officials were brought to the area by a suspect who purportedly specified it as the place where the bodies of the 43 students were dumped. But the GIEI said there is evidence that the man was tortured prior to guiding them to the location.
The group also slammed Zeron over his failure to report the visit along with the discovery, saying it "constituted improper conduct on behalf of the Mexico's AIC director."
"His actions are a contradiction of the minimum international standards of an investigation of the facts," the GEIE said.
The independent group recommended that Mexico carry out an independent investigation into the disappearances without the participation of Zeron in order to protect impartiality.
It also proposed that the circumstances of the visit be clarified by investigating the officials that were at the river on October 28, 2014.
The attorney general will "investigate the actions of public servants of the institution (AIC) on these facts and, where appropriate, establish the corresponding responsibilities," the office said in a statement published Thursday.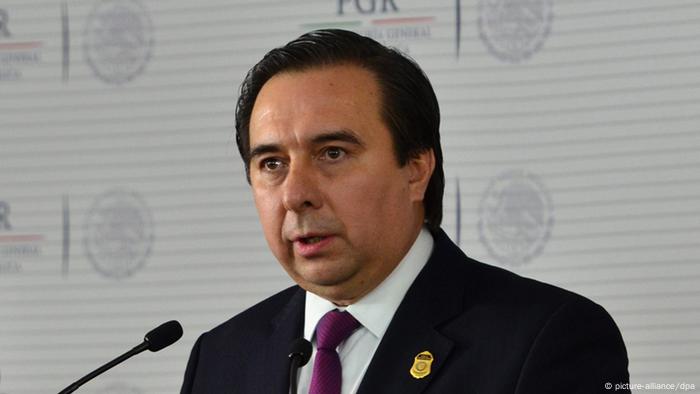 Zeron has attempted to defend himself amid calls for his resignation in light of the report
'Challenges and obstacles'
The move comes amid calls by members of the international community, including the UN, EU and US, for Mexico to follow-up on the recommendations of the independent group.
The Office of the UN High Commissioner for Human Rights (UNHRC) on Tuesday said it was crucial for Mexican authorities to establish culpability for the disappearances and tackle inconsistencies in the official investigation.
"We urge you to explore new lines suggested by the group and strengthen the investigations in this landmark case," said UNHRC spokesman Rupert Colville.
"We are concerned, however, by the many challenges and obstacles reported by experts, which may have prevented further exploration of certain lines, including those related to the role and responsibility of military and other official authorities," the spokesman added.
The EU and US also repeated similar statements, urging the Mexican government to implement the group's recommendations.
Saturday marks the final day of the GEIE's mandate to independently assess the circumstances and investigation of the tragedy that took place in September, 2014, when 43 teachers-in-training disappeared from the city of Iguala.