The upcoming Indo-German summit has been christened a "Government consultative meeting" but this should not mislead anyone about the importance of the event. Chancellor Merkel is visiting India accompanied not only by important cabinet ministers such as Economics Minister Sigmar Gabriel and Science & Technology Minister Johanna Wanka but also by a large delegation of business leaders.
Both sides are aiming to reset a relationship which has long been a victim of different of priorities. This three-day trip (4-6 October) will give both leaders an opportunity to reexamine Indo-German relations and adjust their priorities.
India and Germany have an annual trade volume of 16 billion euro. There is undoubtedly room for expansion. Prime Minister Narendra Modi is creating more jobs and promoting his policies of attracting manufacturing industry to India under the slogan "Make in India" and of creating smart cities. On the other hand Merkel has a digital agenda with Industries 4.0 in her luggage. German business wants to underline the contribution it can make to the age of smart industries.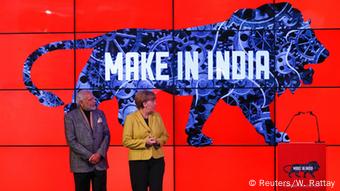 German business wants to underline the contribution it can make to the age of smart industries
In these endeavors both the countries complement each other. Germany needs IT skills and India needs technology. So the emphasis of Merkel's trip is on manufacturing and on Research and Development. India's representative at the German Fraunhofer Society Anandi Iyer says, "The focus of our efforts is how we can promote cooperation in the field of science and technology." No doubt after the hype he created in Silicon Valley Modi will be keen to host Merkel in India's own Silicon Valley in Bangalore.
India has much to offer Germany. It has a fast growing economy with a seven plus percent growth rate which needs large amount of foreign investment. On the other hand, Germany is a developed economy which needs skilled workers to fuel its growth and emerging market like India. More so, as emerging economies like China and Brazil are showing signs of an economic slowdown and Russia is reeling under Western sanctions. But the trade figures between India and Germany also reveal a downward trend after few years of steady growth.
India's Representative at Germany's DZ Bank, which is active in institutional investment, Mr. Anupam Chaturvedi, sees the reason in global financial crises. But there are other problems too. Chaturvedi says: "The main problem is the Free Trade agreement between India and European Union, which is still not signed." This is supposed to give security to investors. India's tax dispute worth some 450 million euro with Vodafone relating to transfer pricing has also acted as an impediment because it affected every company investing in the shares of an Indian company. It turned out to be a kind of barrier for the investment. During their last meeting Merkel raised the issue of Free trade talks with PM Modi and during this visit the possibility of resuming the stalled FTA talks are to be worked out. India and the EU have been in negotiations over a market-opening pact since June 2007. But progress has been stymied by differences over intellectual property rights and environmental and social issues.
Prime Minister Modi aims to turn India's seven trillion euro economy into 18 trillion euro economy. German support is very important. He can take kudos that while foreign direct investment (FDI) has fallen all over the world, it has increased by 40 per cent in India. India wants greater investment from Germany. During the last decade German companies have invested more than five billion euro in India. On the other hand, Indian companies have also invested in Germany to the tune of four billion euro. Still, India has not seen the kind of investment which Prime Minister Modi needs to make his Make in India campaign successful.
India also needs to push the development of skills to improve the employability of its apprentices and trainees. It has to train 100 million young people and there is competition between the regional states. Banker Chaturvedi says, "Maharashtra chief Minister had requested some German companies to setup skill development centers in his state. It has been implemented and some centers are up and running."
Apart from skill development and joint research projects both sides plan to talk about infrastructure development, clean energy projects, and the clean Ganges project. Germany's emphasis is to get increased investment in the areas of infrastructure, chemical and pharmaceutical industry, where it has core competence. Prime Minister Modi has promised to improve the business environment in India and his government has unveiled many reforms aimed at that. Chancellor Merkel's visit to India will give the German side an opportunity to find out whether India has acted on the assurances given by PM Modi during the 2015 Hanover Trade Fair. It is going to be a frank and forward-looking summit which may set the agenda between the two countries for many years to come.