Merkel told reporters that the immediate task at hand was to stop the bloodletting in eastern Ukraine, where a fragile ceasefire is largely holding despite some violations since the Minsk agreement signed in February.
She underlined that "if Minsk doesn't work, then the member states and the European Commission are quite prepared to take tougher sanctions."
"There is a link between current sanctions and complete implementation of Minsk so that Ukraine officials will have access to their own frontier," Merkel said in Brussels. "Territorial integrity can only be restored if you have Ukraine officials on the Russian border. That is what we are working on."
At the moment, the EU has visa bans and asset freezes in place targeting 151 individuals, including several high-ranking Russian officials.
EU focused on current Greek bailout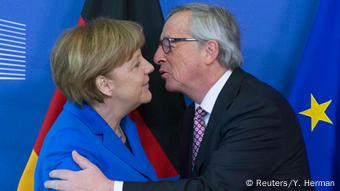 Juncker welcomes Merkel in Brussels
Speaking in Brussels after talks with European Commission chief Jean-Claude Juncker, the German Chancellor explained how the EU was focused on completing Greece's current bailout, playing down any talk of a third rescue package for debt-hit Athens.
Merkel also said work was still under way to implement the terms of last month's deal to extend Greece's current program until June.
"The Troika (of Greece's creditors, the EU, ECB and IMF) is going to assess all of this and I think we've got plenty to be getting on with to make this agreement work, that's what I want to focus on," Merkel told reporters.
Meanwhile, Juncker said it was too early to talk about a new bailout in addition to the 2010 and 2012 rescue packages worth a combined 240 billion euros ($265 billion) that saved Greece from bankruptcy.
"I think it's really premature to be talking in terms of a third program, that's speculation and I think it's best to avoid it," Juncker explained.
Germany remains committed to free trade deal with US
Other topics on the agenda included efforts to boost economic growth and job creation in Europe, as well as a free trade deal being negotiated between the EU and the United States. Germany, viewed as the bloc's economic motor, is key to such talks.
The German Chancellor has thrown her weight behind the agreement, despite criticism from consumer groups which fear a weakening of standards, as well as a loss of regulatory control due to a controversial investor dispute mechanism.
Merkel said Germany remains committed to the aim of completing the political negotiations by the end of this year, adding that this cannot be achieved without the help of member states.
jil/lw (Reuters, AFP, AP, dpa)