Germany's chancellor and Spain's prime minister together praised the gradually-improving economic situation on the Iberian Peninsula. Prime Minister Mariano Rajoy said his compatriots should be thanked for stomaching some difficult economic reforms, saying this work was beginning to bear fruit, as Spain has enjoyed four consecutive quarters of economic growth "after a long time in recession."
Rajoy said the most pleasing development of all was the "net gains in employment figures, for the first time in seven years." Spain's jobs market bottomed out during the so-called eurozone debt crisis, and the country retains the second-highest joblessness rate in the EU, behind Greece. According to figures from the EU's statistics office Eurostat, Spanish unemployment levels have consistently retreated throughout 2014, in June reaching 24.5 percent - or 5.633 million people.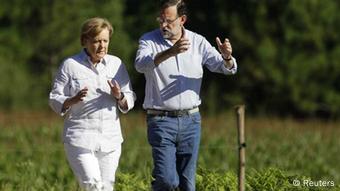 With Spain on a long path back to prosperity, Merkel and Rajoy retraced pilgrims' steps
Visiting Chancellor Merkel also lauded the gradual Spanish turnaround, saying it was the result of "very challenging and difficult reforms" embarked upon by Rajoy's government. Merkel said that "the foundations are now laid" for a more sustained improvement of the Spanish economy.
Preparing for EU summit
According to Merkel, one thing that "united" the governments in Berlin and Madrid was the view that austerity measures and stimulus spending were "two sides of the same coin." She was speaking moments after France's government resigned in relation to cabinet criticisms of EU economic policy and Germany.
On August 30, EU leaders gather for a special summit, above all seeking a new European Commission president and a new foreign policy chief for the bloc. Merkel also offered support for Spaniard Luis de Guindos becoming the next head of the "Eurogroup" - the group of finance ministers for eurozone countries - once Jeroen Dijsselbloem's tenure comes to a close. Merkel said de Guindos was an "excellent finance minister for Spain," praising his close cooperation with Wolfgang Schäuble.
Merkel also said that the EU should concentrate on key areas to improve growth and employment figures, saying the digital market was a prime example where Europe was lagging behind. She also supported Spanish calls for a single European energy market, saying greater competition within the EU would be beneficial for all.
Rajoy and Merkel's meeting was partly informal, as the pair took a one-hour stroll along a stretch of El Camino de Santiago ("The Way of St. James") on Sunday evening at Santiago de Compostela. The cathedral at the UNESCO World Heritage Site, another of the stop's on Merkel's itinerary, is believed to be the resting place of Saint James.
msh/sb (AFP, dpa)