Karl-Theodor zu Guttenberg can depend on the support of his chancellor; that was the message Merkel conveyed on Friday in the face of mounting allegations that the defense minister plagiarized portions of his dissertation.
"He has my full confidence for his work, and this work is important. He has my support ... and we must wait until the university has completed its examination of the allegations," Merkel told reporters in the capital Berlin.
But on Saturday, new allegations surfaced that Guttenberg had used a parliamentary research service, which is meant to assist MPs only in their parliamentary work, to research a topic he then used in his doctoral dissertation, with few changes and without proper attribution.
The Süddeutsche Zeitung daily reported that the defense minister had used incorrectly attributed work from at least 19 authors.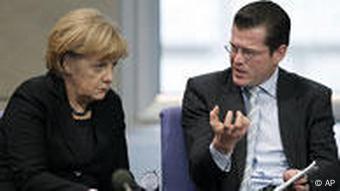 Merkel has much to lose when it comes to Guttenberg
On Friday, a firm Guttenberg gave a short statement in front of cameras outside the defense ministry: "I will temporarily, I repeat temporarily, give up my doctoral title," adding that he would wait until his former university completes its investigation into the plagiarism claims.
Just before Guttenberg issued his apology in Berlin, state prosecutors in Bayreuth - where Guttenberg submitted the 2006 thesis - confirmed that two criminal complaints had been filed against him, claiming infringement of copyrights and lying in the sworn statement that accompanied the thesis.
"Karl-Theodor zu Guttenberg did not credit me as the author of excerpts that came from an article I once wrote," Barbara Zehnpfennig, a professor at Passau University, told news channel N24. "This breaks all academic rules."
Zehnpfennig is not the only source not "properly cited" in Guttenberg's text; several German law professors have accused him of blatant plagiarism, citing up to 70 dubious passages.
Newsmagazine Spiegel said Guttenberg had also used texts acquired by means of a parliamentary research service - normally reserved exclusively for governmental affairs - and even failed to provide proper citation of the author provided by the service.
Days as defense chair numbered?
It is not yet known what Merkel and Guttenberg discussed at their Thursday meeting, or whether Guttenberg's future as defense minister has been called into question, but opposition politicians have been quick to call for Guttenberg's resignation.
The head of Germany's Left party, Gesine Lötzsch, said Guttenberg should step down if the allegations are substantiated, arguing that "anyone stripped of their Ph.D. is no longer suitable to lead a government ministry."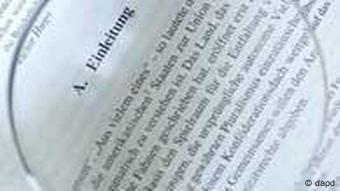 Up to 70 questionable passages have been found
Referring to the 39-year-old's past ability to elude political controversy, Green party head Claudia Roth said there was "no way" Guttenberg could "talk himself out of this affair."
"This time he won't be able to fire anyone, either," Roth added in a direct reference to his handling of an alleged mutiny on a naval training ship in November and a deadly Afghan airstrike in September 2009.
After rising rapidly through the ranks of the CSU, the telegenic Guttenberg became defense minister in Chancellor Angela Merkel's center-right government after the 2009 election.
If the allegations are substantiated, the University of Bayreuth could issue a warning, ask him to revise the thesis or, in the worst-case scenario, revoke Guttenberg's Ph.D. altogether.
The university has given the minister 14 days to issue a written explanation of the allegations.
Author: Gabriel Borrud (AFP, dpa)
Editor: Nancy Isenson