Medvedev told Brown that Russia welcomed the deployment of Organization for Security and Cooperation in Europe (OSCE) observers in the conflict regions of Georgia, Interfax news agency reported on Saturday, Aug. 30.
The Russian president also requested the OSCE send more observers to Georgia, according to a statement released by the Kremlin.
Moscow "calls for the dispatch of additional OSCE observers to the security zone and setting up an impartial monitoring of the acts of the Georgian government," it said.
The 56-nation OSCE decided this month to send up to 100 observers, including up to 15 from Germany, to Georgia. At least 10 countries have offered to contribute. There were eight OSCE unarmed military observers in Georgia before the conflict broke out, serving in a mission set up in 1992.
Georgian aggression?
German news weekly Der Spiegel separately reported that OSCE observers were blaming Georgia for triggering the crisis in a series of unofficial reports to the German government.
OSCE monitors said Georgia had made extensive preparations for the offensive in South Ossetia in early August. Tbilisi has claimed that they were provoked by the Russian side.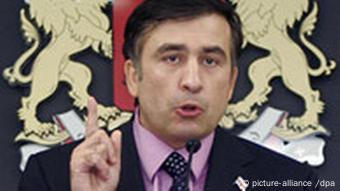 Saakashvili has said Moscow was the aggressor in the Caucasus crisis
Medvedev also renewed Russian accusations that the Georgian leadership under President Mikhail Saakashvili was responsible for the southern Caucasus conflict.
It was "aggression" from Tbilisi towards its separatist regions of South Ossetia and Abkhazia that had made it impossible for these regions to live in peace within Georgia, Medvedev said.
Georgian media reports meanwhile quoted Saakashvili as saying Tbilisi was to introduce tougher laws to stop Georgia being "destabilized" following the recent invasion by Russian troops.
Saakashvili was speaking late Friday during a visit to the Black Sea town of Poti where there was still a Russian troop presence, the reports said. Saakashvili gave no details of what measures were being introduced, but had stressed that "citizens' rights" would not be affected.
Saakashvili again accused Russia of having planned to overthrow the Tbilisi leadership by force -- a claim repeatedly denied by Moscow, most recently by Russian Prime Minister Vladimir Putin on Friday.
He told German public broadcaster ARD television the Georgian claim was "an outright lie" and said he believed Saakashvili should step down.
Checkpoints block homebound refugees
Putin said Russia intended to withdraw its soldiers from the buffer zone they had take over in uncontested Georgian territory as soon as the crisis de-escalates.
But a return to stability was being hindered by Russian troops inside Georgian territory were stopping thousands of refugees from returning to their homes, a Georgian official told Reuters news agency on Saturday.
Russian checkpoints make it difficult for refugees to return home
Russian troops were still manning checkpoints in Georgia and patrolling a Black Sea port even after Moscow pulled back much of the force it deployed to crush Georgia's attempt to take back two separatist provinces.
"The Russians have checkpoints and we still cannot bring these people back home. The threat of paramilitary, irregulars, looting and robbing is still very high," Governor Lado
Vardzelashvili said. "Apparently the Russian military are not willing to prevent these kinds of cases."
The positioning of Russian troops inside South Ossetia and Abkhazia are likely to be on the agenda when European officials meet Monday in Brussels in an effort to curb escalating tensions in the Caucasus region.
Berlin, Moscow to calm situation
Sanctions are also among measure set to be discussed by EU leaders furious over Moscow's slow withdrawal of troops from Georgia. Russia claims it is within its rights under a cease-fire agreement to keep peacekeepers in a buffer zone outside the rebel areas. As the country which brokered the deal and currently holds the EU's rotating presidency, France disputes that point.
Georgian Reintegration Minister Temur Yakobashvili said he hoped the EU would punish Russia with targeted sanctions.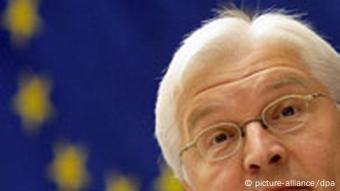 Steinmeier will work to ease tensions at Monday's meeting
"There is no point in isolating Russia," the minister told the AFP news agency. "But we expect certain sanctions, which won't be against the people, but against the political elite."
Russia and Germany, however, agreed on Saturday to seek to calm tensions in Europe over the conflict in Georgia, the Russian foreign ministry said in a statement.
Russian Foreign Minister Sergey Lavrov and German counterpart Frank-Walter Steinmeier "agreed on the need to put an end to attempts to use the situation surrounding Georgia ... to raise tensions in Europe by speculating on non-existent threats concerning other post-Soviet countries," the statement said.
A spokesman for the German Foreign Ministry confirmed a telephone call between the two ministers took place but would not comment on the conversation's details.
EU's punitive options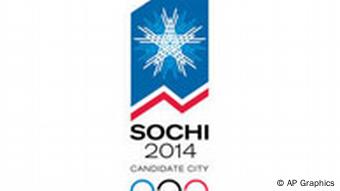 Could the Sochi Olympics become a casualty of the Caucasus war?
EU diplomats also expressed worries that Russia might use its control over oil supplies as a political tool, such as in the past when it once cut off the flow of oil to the Ukraine in a pricing dispute.
Punitive measures stopping short of broad sanctions against Russian leaders could include travel bans or the freezing of overseas bank accounts.
Czech Foreign Minister Karel Schwarzenberg said he supported calls for stripping Moscow of the right to host the 2014 Winter Olympics in the Black Sea resort of Sochi, in an interview published Saturday.
"Organizing a celebration of peace and sport in an area near where there was a massacre and a war of aggression seems to me to be a strange idea," Schwarzenberg told the Austrian Die Presse newspaper.
Moscow's ambassador to the EU Vladimir Chizhov, however, urged against sanctions Friday.
"I won't bet on it, but, at least, I hope that European leaders will be able to rise above their emotions and seriously take stock of the perspective of a strategic partnership with Russia," Chizhov was quoted by news agency Interfax as saying in Brussels.