Former Volkswagen (VW) CEO Martin Winterkorn could lose the personal fortune he accumulated throughout his tenure at the German automaker, reported the Frankfurter Allgemeine Zeitung newspaper on Sunday, citing VW officials.
The VW Group is investigating whether Winterkorn could be responsible for the billions of euros paid out in damages, Hans Dieter Pötsch, who sits as chairman of the carmaker's supervisory board, told the Frankfurt-based newspaper.
Read more: Opinion: VW's Martin Winterkorn must come clean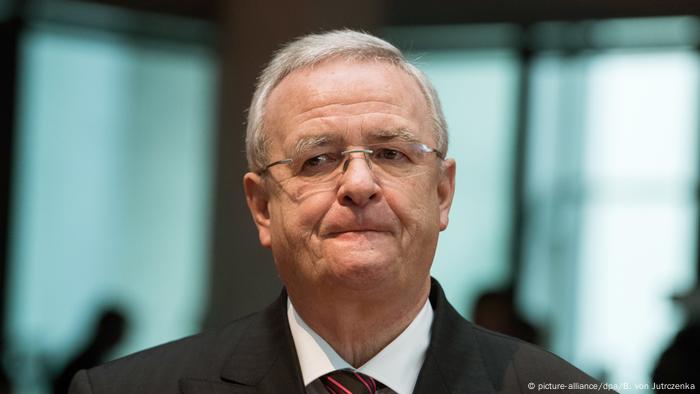 Martin Winterkorn served as CEO of VW when the software was installed on millions of vehicles. According to US prosecutors, he knew even knew about it
According to experts cited in the report, Winterkorn could be held responsible and have to forfeit VW earnings as well as his pension, which amounts to more than an estimated €100 million ($120 million). However, such penalties would likely only be applied in extreme cases, according to the report.
A spokesperson for the German public prosecutor's office told FAZ that before VW could go after Winterkorn for damages, criminal investigations would have to be completed.
'Top of the company'
US prosecutors on Friday issued an arrest warrant for Winterkorn, saying he knew about software installed on VW diesel vehicles that would allow them to cheat emissions tests.
According to the indictment, Winterkorn was informed twice that the company had cheated US emissions tests — once in May 2014 and again in July 2015 – before the scandal became public in September 2015.
Read more: From VW to Julian Assange: How does extradition work?
US Attorney General Jeff Sessions said last week that the charges showed "Volkswagen's scheme to cheat its legal requirements went all the way to the top of the company."
However, it is unlikely that Winterkorn would be extradited to the US since Berlin upholds a policy that does not permit its citizens to be sent abroad for prosecution.
Global fallout
VW has agreed to pay out more than $15 billion (€12.52 billion) in the US as part of a compensation deal that covers 500,000 diesel vehicles equipped with the software. In Canada, it has agreed to paying 290.5 million Canadian dollars (€191 million, $233.1 million).
The German automaker has admitted that up to 11 million vehicles across the globe may have the illegal software installed.
Read more: Germany's dirty diesel cars en route to Eastern Europe
German prosecutors are still investigating how VW managed to produce vehicles with the software and who was responsible. German authorities have collaborated with US investigators, with prosecutors in Germany saying information is regularly shared between both countries.
Each evening at 1830 UTC, DW's editors send out a selection of the day's hard news and quality feature journalism. You can sign up to receive it directly here.