The United States appreciates China's renewed commitment to restrain North Korea but will not accept Beijing's unilateral militarization of the South China Sea, US Defense Secretary Jim Mattis said on Saturday.
"We oppose countries militarizing artificial islands and enforcing excessive maritime claims," Mattis told the Shangri-La regional defense summit in Singapore. "We cannot and will not accept unilateral, coercive changes to the status quo."
Beijing has built up a number of artificial islands on shoals and reefs in contested waters that show "China's disregard for international law ... (and) its contempt for other nations' interests," Mattis said.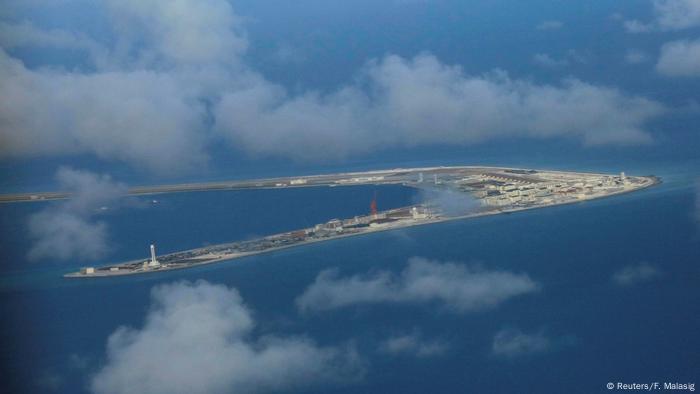 An aerial view of a Chinese outpost in the disputed Spratly Islands
The US military has responded to Chinese moves in the South China Sea by regularly conducting so-called "freedom of navigation" exercises involving warships and aircraft near the outposts.
Read: South China Sea dispute - Long way ahead for China, ASEAN
The comments signal the United States will continue to apply pressure on China over its South China Sea build up that has worried its neighbors, even as it seeks greater cooperation from Beijing to counter North Korea's ballistic missile and nuclear programs.
Mattis sought to reassure countries in the region worried that the United States may grant concessions to Beijing in the South China Sea in exchange for cooperation on North Korea, saying that they were not "binary" options.
Read: Changing security paradigms in East and Southeast Asia
Mattis described North Korea efforts to produce a nuclear-armed missile capable of threatening the United States and its allies was a "clear and present" danger.
Read: US military tests ballistic missile interceptor amid North Korea threat
"North Korea's continued pursuit of nuclear weapons and the means to deliver them is not new, but the regime has increased the pace and scope of its efforts," he said.
The United States would continue to work internationally to apply economic and diplomatic pressure on North Korea, he added. The Trump administration has looked to China to rein in North Korea, with which it has influence.
"The Trump administration is encouraged by China's renewed commitment to work with the international community toward denuclearization," Mattis said. "Ultimately, we believe China will come to recognize North Korea as a strategic liability, not an asset."
Separately, the UN Security Council on Friday adopted US backed targeted sanctions on North Korea over its ballistic missile tests in violation of UN resolutions.
cw/bw (AFP, AP, dpa, Reuters)