Social Democratic Party (SPD) leader Martin Schulz lashed out on Saturday against criticism from Chancellor Angela Merkel's Christian Democratic Union (CDU) and its Bavarian sister party, the Christian Social Union (CSU), days before the three parties are set to start preliminary talks over a new coalition government.
"We have not been sulking … you have made a mess of everything," he said during his final speech at an SPD party convention in Berlin.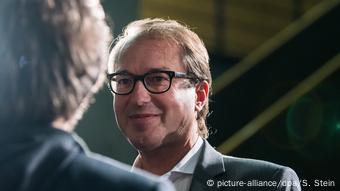 Alexander Dobrindt had accused the SPD of 'sulking'
The head of the CSU's parliamentary group in the German Bundestag, Alexander Dobrindt, said on Thursday the SPD had been "sulking" ever since its historically low vote share — 20.5 percent — in the September national elections.
Dobrindt had also accused Schulz — a former president of the European Parliament — of being a "European radical" after Schulz told SPD delegates he wanted the EU to become a "United States of Europe" by 2025.
"Yes, Mr. Dobrindt. It's not just me, but my entire party. We are all radical pro-Europeans," Schulz said.
Read more: SPD's Martin Schulz defends his 'United States of Europe'
SPD will decide its own future
Schulz also said the SPD had accepted responsibility for maintaining Germany's political stability after SPD delegates voted in favor of entering preliminary coalition talks with the CDU/CSU.
"It frustrates me that others have brought this country to an impasse (…) and we — not for the first time in history — now have to take on this national responsibility," he said.
Preliminary talks over a three-way government between the CDU/CSU, the business-friendly Free Democratic Party (FDP) and the Green Party fell apart in November after the FDP left the talks.
Schulz said, however, that the SPD was ready to take on responsibility on its own terms: "How we take on this responsibility is up to us alone. We won't take any lectures from others."
Read more: SPD open to grand coalition talks, re-elects Schulz as party chair
Making people's lives better
Senior officials from the SPD, CDU and CSU are to meet on Wednesday for preliminary coalition talks. If successful, SPD delegates will again need to give their approval for the three parties to start formal coalition negotiations.
But divisions have emerged within the SPD in recent days on renewing the "grand coalition": Some members, including the party's youth wing, have called for the SPD to enter the opposition and support a CDU/CSU minority government.
Senior CDU figures have rejected that outcome. "If we want to strengthen Europe in this restless world, then we need a stable majority," said Volker Kauder, the head of the CDU in the Bundestag, on Saturday.
Schulz said the SPD should focus on concrete political problems in upcoming talks, including old age poverty, social care and affordable housing. "The crux of the matter is how we are can make people's lives in this country better," he said.
Read more: Opinion: Germany, a paralyzed nation
Speculation about finance ministry
Speculation is already rife as to who will occupy senior ministerial appointments in a new "grand coalition."
The German weekly Der Spiegel reported Thursday that Germany's caretaker Foreign Minister Sigmar Gabriel had told senior SPD officials he could imagine himself as finance minister in a new coalition.
Gabriel, a former SPD leader, denied the report in an interview on Saturday with German national radio broadcaster Deutschlandfunk.
"No one knows what the next [government] will look like," he said. "What the Spiegel wrote is nonsense."
amp/rc (dpa, Reuters, AFP)