Germany's Social Democrats (SPD) voted on Thursday to allow preliminary talks on whether to enter a "grand coalition" with Chancellor Angela Merkel's Christian Democratic Union (CDU) and its sister Christian Social Union (CSU).
About 600 members of the center-left party gathered for several hours and voted with a large majority to enter exploratory talks that could eventually end Germany's government stalemate.
SPD parliamentary group leader Andrea Nahles said on Friday that "open-ended" talks would start next Wednesday and would lead to three options: a new grand coalition; the acceptance of a Merkel minority government or, if negotiations fail, new elections.
Read more: SPD set to decide on 'grand coalition' talks with Merkel at party convention
After an extremely disappointing result in September's election, SPD leader Martin Schulz had ruled out forming a grand coalition, even sticking to his guns for some time when the so-called Jamaica coalition talks collapsed, raising the specter of a minority government.
Generational divide?
Despite the SPD's decision to meet with Merkel's CDU and its sister party, the CSU, opposition to approaching a grand coalition was loud on Thursday, particularly from Jusos — the SPD's youth wing.
"A grand coalition is bad for the SPD and bad for democracy," Jusos chairman Kevin Kühnert told DW on the sidelines of Thursday's conference.
"September's election result showed that there isn't a mandate for a grand coalition. We can't afford to make those compromises anymore," he added.
But SPD parliamentary group leader Andrea Nahles said that a "GroKo" — as it the coalition is known in Germany — wouldn't come at any price.
"They thought they didn't need us anymore. But they be still need us and that would be expensive," she said, referring to the Union's dependency on the SPD to avoid new elections.
The four-page motion that delegates voted on stipulated several demands which would be put to Merkel's conservatives, including reforms to end a ban on some family reunions of asylum seekers in Germany, stricter climate targets, an abolition of private health insurance and a reform to combat poverty among pensioners.
CDU welcomes decision
Though these issues likely will not be music to conservative ears, the CDU said it welcomed the new SPD decision to take up talks. "The aim of the CDU/CSU is to form a reliable and stable government for our country," CDU federal manager Klaus Schüler said. "The CDU will now discuss the next steps at a meeting of the federal executive committee on Sunday and Monday."
Senior CSU parliamentarian Alexander Dobrindt made light of the new position, saying that the SPD had finally stopped sulking.
"It will be tough negotiations, but it is clear that Germany needs a stable government," CSU Secretary General Andreas Scheue said.
At Thursday's gathering, SPD delegates delivered a series of impassioned speeches against teaming up with Merkel again and criticizing Schulz's leadership. A motion to rule-out talks with the CDU and CSU failed to pass.
Identity crisis?
One reason for such internal opposition to coalition talks with Merkel is the SPD's experience as her conservative party's governing partner during two of the chancellor's three terms in office. For many, these years in a grand coalition caused the Social Democrats to lose their way.
"What do the Social Democrats stand for in the 21st century?" Schulz asked in his opening speech on Thursday. "Our biggest problem is that we've lost our identity."
With Merkel also moving the conservatives more to the left, some argue that is has become hard to distinguish between Germany's two biggest parties.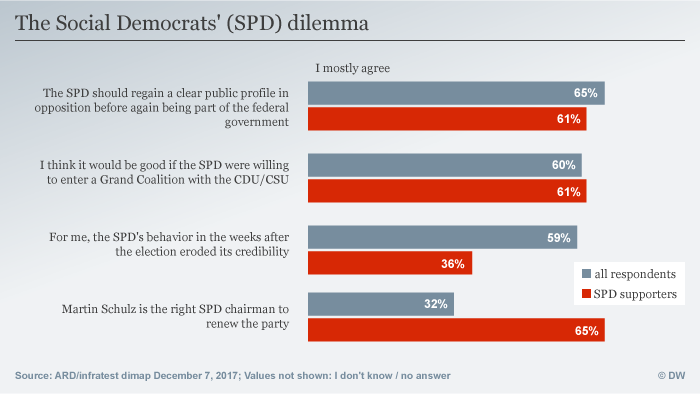 Schulz kept as leader
Right after Thursday's vote to start talks, Schulz was re-elected as the party's head. Schulz received 81.9 percent of the vote, down from the 100 percent he received when he was first elected party leader in March.
Schulz's predecessor Sigmar Gabriel congratulated him in a post on Twitter.
"Convincing speech, convincing party congress and now a really convincing result! Especially in light of the difficult situation. Congratulations," Gabriel wrote.
Schulz acknowledged his role in September's federal election when the SPD earned just 20.5 percent of the vote — its lowest result in post-war German history. "As chancellor candidate, I am responsible for this election result," he said on Thursday.
He also took to Twitter to thank the SPD members for renewing their confidence in him as party chairman. "Thank you for your trust, thank you for my re-election as party chairman. Let us now work together to renew the SPD, make Germany more just and relaunch Europe," he wrote.
All eyes will now be on next week's potential meeting. Regardless of the outcome, a new government certainly won't be in place by Christmas. But according to Schulz, Germany is still far away from a political crisis.
"What happens if we say: 'We won't go into a grand coalition'?" Schulz asked on Thursday.
"If the Greens say: 'We don't want a so-called Kenya coalition [CDU/CSU, SPD and Greens]? If the CSU says they don't want a minority government? And the German president says: 'I don't want a snap election'? Then and only then is our country really in a state of crisis."